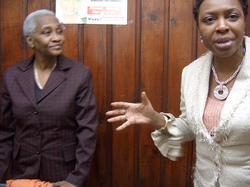 In January, New York sent four freshmen to congress. So far, they have authored a total of 23 bills.
Nine came from Michael Arcuri upstate. Another nine came from John Hall in the Hudson Valley. And the last five came from Kirsten Gillibrand from Glens Falls.
Yvette Clarke of Brooklyn, so far, has not authored any. (After a reader pointed this out to me, I checked it on Library of Congress web site.) I emailed Clarke's office to ask if that was accurate. A spokesperson from Clarke's office, Vanessa Milara, emailed to say, "Yes that site is accurate. She has not introduced legislation, however she has co-sponsored a variety of legislation."