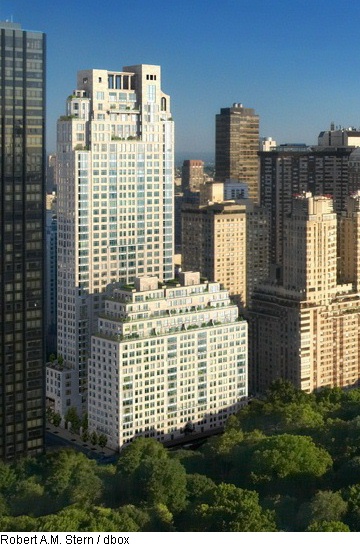 I think it was Diana Vreeland who first equated elegance with restraint. So when it emerged in fall 2005 that the razor-tongued hedge-fund manager Daniel Loeb had set a new Manhattan real-estate record by dropping $45 million for a 10,700-square-foot penthouse condominium with wraparound views, eight bedrooms, 10 bathrooms, 14-feet-high ceilings, a huge terrace and a screening room at Fifteen Central Park West—then not much more than a big hole in the ground—it didn't seem to bode well for this latest addition to the Manhattan skyline.
But as it rose from that hole over the last year and a half, Fifteen—spell it out, please, like they do in the building's Pentagram-designed custom logo, based on turn-of-the-century applied metal lettering—has turned out to be something completely different. Like that logo, this neo-Classical-style über-condo is both a refined throwback to the golden age of Manhattan, and a dignified gauntlet thrown down before the sort of developers who think that just because we fools rush in to buy them, more ticky-tacky gimcrack apartments are what this sliver of schist needs.
Arthur and William Lie Zeckendorf know better. Under slate-gray construction hard hats printed with Fifteen's logo, the brothers are soaring over the verdant green carpet of Central Park in a construction elevator, taking me on a tour of Fifteen, which occupies the entire block bounded by Central Park West, 61st and 62nd streets, and Broadway.
All 201 apartments in the new building—or to be precise, two connected buildings, the 20-story "house" on the park and the 43-story tower rising behind it—have been sold, and they'd closed their sales office the day before.
No wonder their mood is even higher than the spectacular swooping arch that crowns the tower's north-facing roof, giving Mr. Loeb what is surely the most lust-inducing private entertaining space in a city full of same. The asymmetrical roofline (which includes a loggia that hides the cooling tower), is a new yet fitting addition to Central Park West's signature skyline. "It's just architecture," says Arthur Zeckendorf—though, as his brother adds, "That's the first thing most developers cut." Not the Zeckendorfs.
The brothers are as bright as this June day, bright both in smarts and in mood. Closings are about to commence and when they end and the building opens for business this fall, they will walk away with something in the neighborhood of $1.9 billion, about 26 percent of that profit. Though still in the construction equivalent of previews, Fifteen is a hit. And that's before a single member of the cast (of apartment owners) has stepped onstage. A stellar cast it is, too.
Though Mr. Loeb, the headliner, may not yet have a marquee name, several of those reportedly set to be his neighbors do—among them Sting, Denzel Washington, Norman Lear, Nascar's Jeff Gordon and his new wife, Belgian model Ingrid Vandebosch, and Bob Costas. The several Goldman Sachs partners who've bought in, including CEO Lloyd Blankfein, don't need big names; they've got big bank accounts. Ditto Dan Och of Och-Ziff and Sanford Weill, whose purchases haven't previously been revealed.
FIFTEEN'S BACK STORY IS fairly drama-free. The full-block lot was assembled a parcel at a time, and likely for a song, in the 1970's by members of the Goulandris shipping clan. They annoyed preservationists in 1982 when they stripped the Mayflower Hotel, built in 1925, of its terra-cotta decoration. By 1987, they'd demolished everything on the site except the Mayflower, but then sat on the half-empty lot for years, hiding behind the shingle of a generically named real-estate firm, presumably waiting for values to rise.
The Zeckendorfs (and just about every other developer in town) had eyed the rare full-block park-side parcel for more than a decade. During that time, the former Gulf and Western tower was transformed into Trump International, which opened in 1997; the Time Warner Center rose to replace the shabby old New York Coliseum in 2004; and the city embarked on a total rehabilitation of Columbus Circle (which was completed in 2005—a subway redo is ongoing). Backed by Goldman Sachs and other investors, the Zeckendorfs paid a reported $401 million—twice the going rate—for the block in spring 2004, and speculation soon followed that they planned to build an apartment house reminiscent of Central Park West's visually defining structures: the Century, one block north, the San Remo, the Majestic and the Beresford.
Demolition began that fall and continued until June 2005. Meanwhile, Robert A. M. Stern was hired to do something remarkable: design a building that harked back to the golden age not just of those great-named buildings, but also of East Side equivalents like 834 Fifth and 740 Park, both of which Mr. Stern has cited as inspirations. (Coincidentally, the Zeckendorfs' grandfather, William, a legendary developer himself, briefly owned 740 Park in the 1950's.) Those buildings house apartments that are generally considered the best, and not coincidentally, the most expensive in town. So the Fifteen team was setting the bar high, even in what was then considered an insane real-estate bubble.
As the building rose and was clad in its coat of 2,832 panels of limestone from the same Empire Quarry in Indiana that produced the skin of the Empire State Building (as well as those of the Pentagon and National Cathedral), and something like 80,000 other stone elements—50,000 of those uniquely cut—real-estate savants were busy tabulating other numbers, and it became clear what kind of gutsy bet was being laid.
The Zeckendorfs and company had paid about $690 per buildable square foot for the property, and then spent about $1,130 per square foot to build their 886,000-square-foot two-tower behemoth. Would anyone buy? Were they out of their minds?
Some apartments have their own tiled laundry rooms, and those on setbacks have spacious terraces.
A sales office opened in September 2005 with the average asking price for apartments hovering at $3,300 per square foot, well above the general Manhattan average of around $1,000 a foot. By December 2006, all 15 penthouses had been sold. A few months later, the apartments were all gone, the sales office shuttered. The Zeckendorfs' bet had paid off. The average sales price realized was $9.5 million per apartment, and 15 sold for sums in excess of $20 million.
It's telling that both the Zeckendorf brothers have taken apartments at Fifteen, presumably unconcerned about hearing complaints when they run into their new neighbors. That could happen in either of the two concierge-staffed lobbies—a grand, English oak, red-, pink- and purple-marble-trimmed one on Central Park West, complete with two fireplaces, and the other in the circular copper-topped pavilion that divides the space between the two towers into a cobblestone circular "motor court" and a private park for residents only. Or in the walnut-lined private library; the private residents' club complete with a 20-seat screening room, a game room, a conference room and a large terrace; the garage; the 60-seat lobby dining room (with a private chef who will also offer room service); or the subterranean health club, complete with a 75-foot lap pool with a skylight above and a reflecting pool in the garden over that. There are even waiting rooms for real-estate brokers, the Zeckendorfs joked, and chauffeurs; the latter one, near the garage, will boast a TV tuned to the Weather Channel.
There can be little argument with Mr. Stern's design: The building is classic, grounded in the past, yet soaringly modern; serious, yet whimsical, and oddly appropriate both to the street it faces and the one it effectively turns its back to (there is no entrance to the residential building anywhere near the retail spaces that will open on Broadway). Within, light is used as a signature design element. Only a few of the apartments lack views, and even the worst of those offer glimpses of the Hearst and Time Warner towers, which, though they're not Central Park, are pretty dramatic nonetheless. From without, too, as Mr. Stern has said in the building's promotions, the limestone seems to glow; the roofline has a sense of whimsy; and (imagining the canopy yet to come) the main entrance makes you take a breath and straighten up a bit. The driveway, entered from 61st Street, opens into a private courtyard that will surely make residents feel cosseted by more than their money.
For the moment, at least, Fifteen's financial promise seems as solid as the building itself: The New York Sun has even front-paged a claim that with its arrival, the southwest corner of Central Park (which is also home to distinctive apartment houses such as the Gainsborough Studios, 200 Central Park South, the Osborne, Alwyn Court and Hampshire House) has ascended to the status of a new Gold Coast. Unlike the East 70's, where its inspirations lie, this new hood is within walking distance of Lincoln Center, all of midtown and Madison Avenue, and is well-served by public transportation. It may not have Swifty's and Sette Mezzo, but Gabriel's, Jean Georges and Per Se will do. (N.B. I know. And have a vested interest—I live in the neighborhood.)
Though no one has moved in yet, the scale and volume of Fifteen's rooms also bespeak grandeur. About 80 percent of the apartments are floor-throughs (there are only a handful of one-bedroom pied-à-terres without views). Public rooms have the sort of scale normally seen only in 1920's buildings by the likes of 740 Park's architect, Rosario Candela. Windows on Central Park are huge and generous (they even open—no small detail), their distortion-free glass magnifying clear views of Central Park from the "house" apartments and, seemingly, all of America from the upper tower apartments. The kitchens are also huge, one of the modern touches Mr. Stern added to the classic template (well-represented by lots of glass-fronted pantry cabinets). Private spaces like bedrooms and bathrooms are designed to be just that. The closets are abundant and generously sized. Some apartments have their own tiled laundry rooms, and those on setbacks have spacious terraces. And, separately, the Zeckendorfs offered buyers 29 maid's suites on low floors that look out over the driveway entrance, allowing live-in staff but eliminating the need to actually live with them. (Thirty wine rooms surrounding an octagonal tasting area were also sold separately.) The hat trick of thoughtful layouts, space and style is as strong a selling point as Fifteen's location location location.
SO WHAT'S THE DOWNSIDE? Some time ago, I asked Mr. Stern if the building would be as good in every way—i.e., down to the concrete and pipes—as its Roaring 20's forebears. "I'm not going to answer that," he said. "We're trying to build very well. I would say that aspects of our building are comparable."
But some are not. Some ceilings are only 10 feet high. While the master suites are huge and luxurious, with high-end fixtures and marble slabs that are typically book-matched stone, the secondary bedrooms are smaller and their bathrooms could be in any condo. And this may be just me, but I loathe family rooms separated from kitchens by breakfast bars and think Mayor Bloomberg should outlaw them as a blot on our metropolis.
According to the Zeckendorfs, most buyers plan to just move in (unlike Jeff Gordon, who bought a white box and plans to customize it). The bottom line is that flippers (should there be any—the Zeckendorfs expect no more than 10 tops) may need to invest more money if they expect a decent return on investment. And they will. Count on it.
"Early on, about half of the first 70 contracts we issued fell through," says Will as we climb aboard the elevator and descend from the summit of the gods, or rather, the Terrace of Loeb. What happened? The buyers decided the apartments were too expensive, Will says.
Arthur Zeckendorf laughs out loud. "They're kicking themselves now!"
Michael Gross is the author of 740 Park: The Story of the World's Richest Apartment Building. He is writing an unauthorized biography of the Metropolitan Museum of Art.