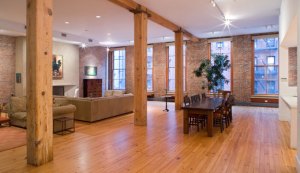 If Soho is a galaxy of well-tanned options traders and Parliament-puffing celebrities, its residential mothership is the corset factory–turned-condo 30 Crosby Street, where Lenny Kravitz is up in the duplex penthouse, and the lobby (once trashed by ex-owner Courtney Love) has aromatherapy.
But what did trader Richard Barabino, who sold his second-floor loft there for $6.5 million last month, like best about 30 Crosby? "My apartment was a great place to show off to friends," he said from a Canadian summer home. "Ultimately, I really liked impressing my friends with this apartment, and it did the job."
Quite so: There are 13-foot ceilings (held up by "original hand-hewn timber columns"), and a 41-foot-long living room with wood-burning fireplace, next to the "library/media room" (with sliding glass doors), next to a 16-foot-long dressing room, next to an even longer master bathroom.
Those princely details appeal instinctually to television executives, so episodes of Law & Order and 30 Rock have been shot in the loft. "It was the apartment of Tina Fey's date, a news anchor," Mr. Barabino said of the sitcom scenario. "He lived in a show-off spectacAular apartment that he used to pick up girls, that sort of thing."
(Mr. Barabino, on the other hand, met his neuro-radiologist wife Mika Lidov at the backgammon championships in Monte Carlo in 1989. They've both been top-ranked players.)
The buyers are listed in city records as The Crosby Street LLC. "I'll tell you this much," the seller said, "it's old European money, and they just want to remain anonymous."
The buyer will enjoy a building staff that Mr. Barabino swears he'll miss more than anything else. "The guys in the building, basically, they're like little puppies wagging their tails eager to do something to help you out."
Isn't Soho a kindly, humane place?