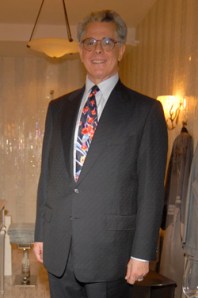 Too much decadence is unhealthy, but this would be a boring city if there were zero duplexes with separate guest wings and two wet bars and gold-decorated his-and-her master bathrooms.
So it's splendid that the 11-room ground-floor duplex at 1 Beekman Place, a quiet but impossibly plush East River co-op building—the board once reportedly evicted septuagenarian supermarket heir Huntington Hartford for "immoral character"—is about to get its opulence upgraded.
High-style jeweler-craftsman John Landrum Bryant and his heiress wife, Patricia Bauman, have paid $7.1 million for the four-bedroom Beekman sprawl—$900,000 below asking price. Before they even touch anything, their the co-op already has an apartment-wide garden with a private street entrance, a wine cellar and those two wet bars, plus a master bedroom with a kitchenette and fireplace.
Lucky for Ms. Bauman, her personal all-marble bathroom has a Jacuzzi and hair-dressing sink with gold fixtures, according to the listing with Brown Harris Stevens' Guida De Carvalhosa. The broker wouldn't comment for this story.
Maybe Ms. Bauman will replace that gold with her husband's work: Mr. Bryant casts animal-themed faucets with names like "Baby Tiger and Frog" or "Octopus on Sea Mound," plus "Peacock" doorknobs.
He has a flair for expensive-sounding décor. "We have a collection of Asian art, and Meiji art, which is a period of late-19th, early-20th-century Japan," he said. Then there's post-Deco Japanese art, and more animal bronzes (French ones from the 1920's to 1940's).
"This will be used as a showcase for those, as well as extremely rare Chinese antiques." Of course! "The art is so spectacular, we're in the lucky position of not having to, you know, worry about expensive finishes and that sort of thing. Although that will be there." Naturally!
But what will be used for the floors and massive fireplace in the two-tier living room? "Jade from a special mountain in China," he said, "which has been written about since the 5th century—B.C. And it was the stone used as tribute, so when they had to make a payment to the emperor, this was the jade they used."
The sellers are Elizabeth and Donald Kramer, an insurance exec based in Bermuda—which happens to be where old Mr. Hartford built up a 12th-century Augustinian cloister.