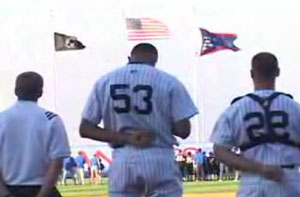 Those who enjoy a sure thing should stay away from betting on pitching prospects. Between injuries and simple lack of development, baseball even uses a nonsensical acronym to describe their unreliability: TINSTAAPP (There Is No Such Thing As A Pitching Prospect).
Then six-foot-nine Dellin Betances reaches 98 miles per hour on a radar gun as a junior in high school, and a gaggle of baseball scouts and fans drools with Pavlovian certainty.
Now in his second year of professional baseball with the New York Yankees' farm system, Betances is prompting fantasies of broken bats and perfect games for fans of the Bombers in Staten Island, where he plays.
But, as if proving the rule, fans who have speculated wildly on his first few outings have had their expectations of immediate gratification doused in cold water.
Betances is not a large young man: he towers, but does not surround, with just 235 pounds on his elevated frame. He'd call to mind a young Randy Johnson, except for one thing: he smiles a lot. And unlike the Big Unit, who attacked a cameraman en route to his first press conference in New York, Betances won't have to adjust to playing here: a Brooklyn product, he first attracted attention for his play at Grand Street High School.
Reports had him throwing regularly in the mid-nineties, with some marking his fastball (a speculative science, due to differing radar guns) as high as 98 miles per hour—faster than almost any in the major leagues. Better yet, Betances' pitch had movement, a sign that often presages the ability to throw effective off-speed pitches, which rely on breaks rather than sheer muscle to fool batters.
The results, as one might expect, were otherworldly. Betances' record was 6-0 as a junior, with a 0.17 ERA and 100 strikeouts in just 41 2/3 innings. He allowed 11 hits all season. As a senior, he was 4-0 with 65 strikeouts in 27 innings—and his E.R.A. was a perfect 0.00.
"My other pitches didn't matter so much," Betances said in an interview in front of the Staten Island Yankees' clubhouse following a start against the Vermont Lake Monsters last week. "I could just get them with my fastball."
But pitching in the minor leagues, let alone the major leagues, requires a repertoire beyond the heater. Teams thinking about drafting Betances were scared by a reduction in velocity his senior-year season; they also worried that at six-foot-nine, the repeated motion required to throw secondary pitches effectively would be hard for Betances to find.
"From a development perspective, his height is as much a hindrance as an asset," John Sickels, who publishes an annual book rating more than 1,000 minor league prospects, said in his 2007 report on Betances. "Pitchers that tall often have problems keeping their mechanics consistent, which can result in command problems and injury vulnerability."
As a result, the lanky righty dropped to the eighth round of the draft, at which point the Yankees promptly scooped him up. Despite the drop, the Bombers had to pay Betances a $1 million bonus—there was the prospect of a scholarship to Vanderbilt University for Betances if he decided to pass on the contract offer.
But the combination of financial reward and the chance to play for his favorite team was enough to bring Betances on board; and the Yankees were quickly glad that they made the investment.
Betances showed a solid work ethic, and quickly found professional success in the Gulf Coast League, the lowest rung of the professional baseball ladder. In 23 1/3 innings, he pitched to a 1.16 E.R.A., walked only seven and struck out 27.
But he has found pitching more difficult for Staten Island in the New York-Penn League, a short-season circuit just a step below A-ball. Through July 15, his E.R.A. stood at 3.60. He's fanned 29 batters in just 25 innings, but has also walked 17, including 6 in a start on Independence Day against arch-rival Brooklyn, a farm team of the New York Mets.
In his outing against Vermont on July 15, Betances lasted just three innings. His status as a work in progress was clear in the first inning. He nearly hit one batter, then threw a fastball over the catcher's head. He came back to strike that batter out; then allowed a single, followed by a wild pitch.
His lack of trust in his off-speed pitches was apparent in the second inning. Facing Vermont batter Aaron Seuss with a 2-2 count, Betances fired fastball after fastball, four in a row. Seuss fouled off the first three, timing him, then shot the fourth one into right field for a base hit. Undeterred, Betances then threw three straight fastballs by the next hitter to get out of the inning.
"My curveball wasn't really working today," Betances said after the game, talking about the at-bat. "I thought I could get him with the fastballs."
He said he rarely throws his change-up at this point, but is working on it.
A commonly accepted baseball truism is that a starting pitcher needs three pitches to withstand the hitters getting a second and third look at him. On his off days, Betances barely has two.
To his credit, though, he is actively working to improve both his strength and his delivery. He said that he put on 30 pounds of muscle training four days a week, though in the grind of the baseball season, he's lost about 5-10 pounds of it. He plans to try and put on another 30 pounds of muscle this winter.
As for his delivery, he does more than just repeat it during side sessions with Staten Island pitching coach Jeff Ware.
"Every night, I check my delivery in the mirror," Betances said, smiling. "I practice it there."
Still, the TINSTAAPP crowd nodded sagely when Betances was scratched from his last start due to tightness in his throwing elbow. Team spokesman John Davison said that he was expected to make his scheduled start later this week.
An American League East scout who has tracked Betances since high school said that ultimately, finding the consistency he'll need to succeed in the Yankees' organization "was all part of the learning process."
"He's a great kid, eager to learn," the scout said during the game. When asked if he thought Betances would make it, he shrugged his shoulders and said, "How can I know? How can anybody know?"