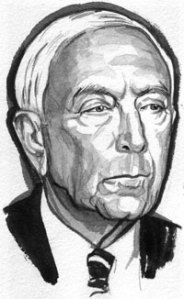 The ninth decade of 83-year-old Senator Frank Lautenberg's life has been a charmed one, thanks to New Jersey's dirty Democratic machinery.
Just five weeks before Election Day in 2002, Mr. Lautenberg, then two years into an unhappy retirement from the Senate, was picked to replace Senator Robert Torricelli on the ballot by an unholy troika of his party's most tainted power-players:
One of them (former State Senate President John A. Lynch) is now serving 39 months in the federal pen on mail fraud and tax evasion charges, and another (James E. McGreevey) was last seen making catty comments about his wife's attire in their made-for-daytime-TV divorce proceedings. The third (South Jersey boss and Commerce Bank executive George E. Norcross III) has had a slightly better go of it: A comically inept state attorney general bungled a potential corruption case against him before the feds could move in with an indictment.
But back in 2002, that trio called the shots, and for a variety of reasons—none of them actually related to the work he might do as a senator—Mr. Lautenberg fit their bill for an emergency candidate. And you can hardly blame Mr. Lautenberg for playing ball. Within minutes of his departure from the Senate in 2000, he made it known that he'd made the biggest mistake of his life. To get a do-over at age 78—who could say no to a miracle like that?
What's happened since then was predictable: Mr. Lautenberg rolled past his Republican foe in the November '02 election, hasn't significantly offended the electorate in the interceding five years, and is now set to seek a fifth six-year term (which would be a New Jersey record) in 2008. He will almost certainly win, too, since New Jersey's masses, disgusted with George W. Bush and the national GOP, are now accustomed to voting Democratic without asking questions.
On the surface, Mr. Lautenberg's story is a heartwarming narrative: A good-natured codger lucks into a second chance in his golden years.
But it also encapsulates everything that's wrong with politics in New Jersey, a state where leaders aren't elected as much as they are selected.
Whether you appreciate his work in the Senate is immaterial: Mr. Lautenberg was chosen in a backroom. His subsequent election victory, and his looming triumph next year, will be the easy part, a result of having the right party label in the right state—and the backing of that party's feared machinery. The only truly consequential moment was when he won the blessing of that Gang of Three ("McLynCross") at the end of September 2002.
The same goes for his fellow senator, Robert Menendez, who was appointed to his seat in January 2006 by Governor Jon Corzine, who had vacated it. Mr. Menendez spent more than a year engaged in fierce behind-the-scenes politicking to win Mr. Corzine's blessing, and as with Mr. Lautenberg, that was the tricky part.
Once he was tapped, Mr. Menendez found himself with a clear primary field (state and national Democrats saw to that) and a general election climate so favorable to his party that even his own formidable ethical baggage was no obstacle to his 8-point win over a superficially attractive but hapless Republican foe, Tom Kean Jr.
Mr. Corzine is in that category as well, even though he fancies himself the Mr. Clean of Trenton. He secured the governorship in a manner befitting his Goldman Sachs heritage: by purchasing the support (and guarantee of tens of thousands of machine-produced primary votes) of all but one of the state's Democratic county organizations in 2005, thereby flushing the popular-but-cash-strapped acting governor, Richard J. Codey, from contention.
Since 1996, there have been seven potentially "open" Democratic nominations for statewide office in New Jersey, but only twice have the state's Democratic masses actually been entrusted with picking their party's candidate in a primary. Indeed, the most famous political campaign in recent Garden State memory is known among insiders as "the 12 Days of Torricelli"—the period in the summer of 2000 during which Mr. Torricelli sought to line up enough county organization endorsements to push Mr. McGreevey out of the race for the next year's "open" gubernatorial nomination. He failed, and on Day 12 Mr. McGreevey had secured the nomination—11 months before a single primary ballot was handed out.
The same pattern holds for lower-profile offices, where retirements and resignations are timed so that county bosses—and not voters—can pick the next incumbent-for-life. Republicans play the same game, too, at least in the parts of the state where they can get away with it.
New Jersey's reputation for political corruption is notorious. But a cursory glance at census data—or better yet, a foray off the Parkway or Turnpike—confirms that the state is home to a particularly intelligent, educated and highly skilled collection of people.
Why aren't more of them in government? Maybe it's because they never have a chance to run.