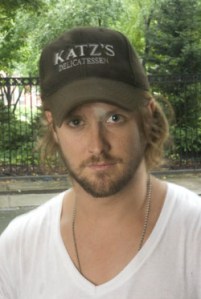 Location: Tell us your back story, like how you arrived from Australia four years ago and started restaurants in New York with your business partners?
Mr. Mathers: I was working with a group in Australia that did a number of restaurants throughout Sydney. And then I founded Ruby's [on Mulberry Street in Nolita], just a little coffee shop. And then I turned it into more of a restaurant; and then I hitched up with some other friends of mine who had a big fashion label, and that's the store next to Ruby's.
And then we were approached by Ralph Lauren.
Can you explain that partnership a little bit?
We just did a restaurant, a bigger restaurant, down in Georgetown [in Washington]. It's joined to the Rugby store—there's a new label that's called Rugby Ralph Lauren—and we have a separate barn door between us and the store because we don't keep the same hours as the store.
A barn door?
Yeah, we call it a barn door.
O.K. Are there going to be any Rugby stores with restaurants in New York?
Well, I'm not quite sure what's going on about there. No, we'll give it a bit of a try, and I think it's going pretty well down in Washington; we'll sort of get a bit of a feel for it over the next year, and see how it all turns out. Because, you know, we're sort of running at full speed ahead now doing stuff.
Can you talk about the new restaurant slated for West 10th Street, the one we're in now?
We have an upstairs, a downstairs, and it's all under construction right now.
It's called Little Ruby's, right?
Right now, everything changes, but Little Ruby's would be one of the names. You know, honestly, I'll have to open the door on how I think of the name. I mean, the name itself comes from us having a few drinks one night, and then I'll think of a name.
And what's it going to be like? A nightclub?
No, no, not a nightclub at all. You can have some food, you can relax, you know, have a glass of wine. It's a different taste, sort of. You feel like you're in a men's lounge. It will be nice, and somewhat regal, I hope. Not a nightclub; I don't like that term.
Are you aware of other young restaurateurs in the city? Do you guys all hang out?
Other restaurateurs? You know, I have a crew of people that I work with, that get involved with all the stuff around the city, you know? But not necessarily restaurateurs. I have a team that I work with, a couple of Australian guys as well, and, you know, great design guys that we pull from. It's just great minds all coming together and doing different things. You know, it's not all about the restaurants so much, but I have a passion for the food and the restaurants.
How did that start?
I think I liked the entertaining aspect. You know, when all these women walk into a restaurant—or one of your own restaurants, anyway—you know it's just perfect; for every one of your staff working, there's just a great energy, it's really a classy feeling. I think I used to get that feeling just being in a restaurant when it was a great restaurant, and the lights were right, and the music was great, and I was like, "Wow." To be able to create something like that is something I enjoy doing.
What would be your advice to other young people who want to break into the New York restaurant scene?
Just be prepared for a lot of hard work. It probably looks very pretty, but, you know, the restaurant industry is really hard. And it's long hours, and it's hard, but it's a good lifestyle. It becomes your life.
Can you describe the lifestyle?
It's a lot of young people—fun, creative people that you get to meet. It's not like working in an office. You get to meet amazing people; and through the restaurant industry, and through what we do, I've met some amazing people. It opens up the doors to an opportunity, and it's not like sitting at a desk.