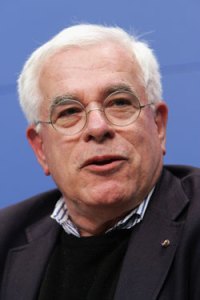 Genius architect and empty-nester Peter Eisenman has sold his 21st-floor apartment at 101 West 12th Street. His buyer, nightclub owner Noah Tepperberg, works in a world that owes more to busty celebrities and lousy cocaine than to architectural anti-humanism or post-functionalism, but that's how it goes in Manhattan.
According to city records, Mr. Tepperberg paid $3.2 million.
Did Mr. Eisenman craft the apartment for himself and wife Cynthia Davidson? "I would never live in anything I design," he told The Observer. "Life and art are different. My life is very precious to me—my art is precious to me. I love designing things for other people, but I don't like designing things for myself."
He called the 2,000-square-foot apartment, designed by a former student named Joe Tanney, "very, very cool." That probably suits Mr. Tepperberg, a cofounder of the all-powerful Marquee, who is moving up from the 12th floor of the building, a white blockwide co-op called The John Adams.
On the flip side, Mr. Eisenman is downsizing a few floors lower now that two younger sons are moving away to school. "We had a great balcony, a great view, a great kitchen. But when the kids were there we would eat with them," he said. Life gets lonely.
Among other things, according to Prudential Douglas Elliman's Phyllis Mehalakes, who listed the apartment with Mary Cedeno, Mr. Tepperberg is replacing the apartment's maple wood floors. "Well, the buyer is going to be putting his own signature on it, if you will," Ms. Mehalakes said. Her listing calls the co-op a "PALATIAL family home."
But what will the architect and Ms. Davidson do to their new place in The John Adams? "We'll putter with it … We're not going to design anything, let's put it that way," Mr. Eisenman said. His family still has an 18th-century house in Stony Creek, near Yale, where he teaches architecture.
Mr. Eisenman isn't working on anything in New York, though global projects include Cardinals Stadium in Arizona, a railroad station in Pompeii, and the "City of Culture of Galicia."
"If you were a son of mine, I wouldn't want you to be an architect," the septuagenarian told this reporter, "because it's a tough way to be in the world. Look, my son who graduated from law school three years ago makes more than I do after 40 years of working."