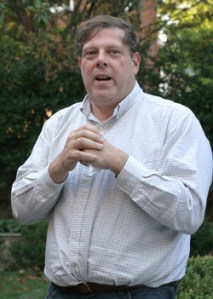 When all is said and done, the abiding lesson of an ugly breakup involving the political powerhouse firm Penn, Schoen and Berland may be this: Be careful what you say using company e-mail.
In early June, the firm of Hillary Clinton's pollster Mark Penn brought a federal suit against four former employees of his high-powered firm, on the grounds that they were violating their contracts by trying to make off with some his most lucrative corporate clients. In the course of doing so, Penn's representatives submitted more than 100 pages of contracts, excerpts from his company's employee handbook and—most extraordinarily—electronic communications showing, according to his complaint, that the former employees were "engaging in an orchestrated and illegal plot to sabotage" the business he had founded.
On June 20, a U.S. District Court judge agreed, issuing a restraining order against the former employees from engaging in any more competitive activity. But it is the e-mails—which were subsequently removed from the public record when Mr. Penn voluntarily withdrew his complaint from federal court in Manhattan and refiled it on June 21, practically verbatim, in state Supreme Court in Manhattan—that have become the focus of the fight.
On June 29, a former PSB employee, Mitchell Markel, filed a countersuit claiming that Mr. Penn and his colleagues at the firm had "created a fake e-mail address in Markel's name and manipulated his BlackBerry Cingular Account so that every time Markel pressed 'send' on his personal BlackBerry, every outgoing e-mail from his Yahoo and Global Insights accounts was simultaneously intercepted and sent to the phony address, an address known only to them, and to which only they controlled access."
That fact—that the e-mails Mr. Markel sent using a company account were monitored by the firm after he left—is not in dispute.
The messages, which were obtained by The Observer after they were withdrawn from the suit, were the centerpiece of Mr. Penn's complaint, which sought more than $11 million in damages from former partner Michael Berland—who conducted polling for Mayor Michael Bloomberg—and unspecified damages from other named defendants, including Mr. Markel.
Before leaving PSB, Mr. Markel had signed an agreement not to solicit any of the clients currently under contract with his former company.
Mr. Berland signed a similar agreement as well as an additional no-compete agreement, which would bar him from working in the same industry.
The e-mails dealing with some of PSB's highest-profile clients—which include industry giants like the National Hockey League, Estee Lauder and, ironically, the makers of BlackBerry —seemed to indicate, at least, that Mr. Markel was playing in a gray area.
"[W]e need to get NHL documents done this weekend," Mr. Markel wrote to Mr. Berland on June 2, weeks after leaving PSB.
On May 17, an NHL employee, John Collins, wrote to Mr. Berland, "Attached is a rough outline for your review. If you have a few minutes maybe we could talk it through later today or tomorrow."
Collins goes on to say that he hopes to "develop a power point presentation for the NHL owners meeting in June. There may be some additional out of pocket costs (presentation boards and the like) but this shouldn't amount to much. Thanks for the opportunity to contribute on this. Let me know when a good time to connect might be."
On May 23, Mr. Markel wrote to a man identified only as "Carl," saying, "Looks like Estee survey is running great. Thanks for your help." Then, before signing off, he asked about one other PSB client.