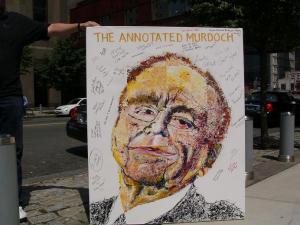 At around noon on Tuesday, Geoffrey V. Raymond, a New York based portrait artist, showed up at One World Financial Center, the offices of Dow Jones, Inc., with a four-foot-tall painting of Rupert Murdoch's face.
Security officers clapped on their headsets, unsure of the building's regulations for unexpected art exhibitions. After some deliberation they sent him curbside, where he remained for the rest of the afternoon.
"I have carved a niche out of painting controversial Wall Street figures," Mr. Raymond said, standing proudly next to his latest, "The Annotated Murdoch." With the face centered on the canvas, passersby stopped to write their thoughts around the border with magic markers that Mr. Raymond provided. A red marker was reserved for Dow Jones employees.
A self-described cross between Jackson Pollack and Chuck Close, Mr. Raymond has created images of former New York Stock Exchange chairman Richard Grasso and Goldman Sachs chief Lloyd Blankfein. He said he is currently working on a portrait of CNBC reporter Maria Bartiromo (nickname, "Money Honey") as the Virgin Mary.
He said he chose to paint Mr. Murdoch because of his internal anxiety about the potential Dow Jones take over.
"The acquisition of The Wall Street Journal by somebody like Rupert Murdoch is certainly cause for concern," he said. "I find it ratifying that people want to write on my painting."
By mid-afternoon around 30 commenters ratified Mr. Raymond's reconstitution of Mr. Murdoch.
"I don't care," scrawled one strangely apathetic passerby. "Keep the WSJ out of this scumbag's hands" wrote a more opinionated signatory.
"We want truth liberty and the American way," one Dow Jones employee wrote, while another complained, "Fox News is no news."
On the center of the canvas in red ink were written the words, "news is sacred."
Joshua Prager, a senior special writer at The Wall Street Journal, approached the canvas to write the legend: "Unfair and Imbalanced, stay away."
"I think people have a lot to say and a lot of thoughts to express," Mr. Prager said. "This is just another outlet for them to do so."
Mr. Raymond said that lots of Dow Jones employees had looked at the painting, but only five had actually written on it by mid-afternoon.
He said one employee had begun writing but stopped when he saw his editor walking by.
"I think there's a degree of corporate paranoia," Mr. Raymond said.
Mr. Raymond plans to stand outside of Dow Jones everyday this week, weather permitting, and will measure his success in graffiti.
And then he'll put the painting up for sale on Ebay, starting the bidding at $3,500.
"It only takes two rich guys to make the action a success," Mr. Raymond said with a smile.