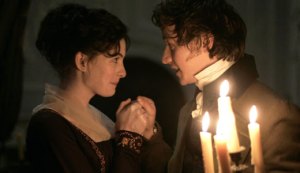 BECOMING JANE
Running Time 120 minutes
Written by Kevin Hood and Sarah Williams
Directed by Julian Jarrold
Starring Anne Hathaway, James McAvoy, Maggie Smith, James Cromwell
Julian Jarrold's Becoming Jane, from a screenplay by Kevin Hood and Sarah Williams, has been admirably intended as a tribute to Jane Austen (1775-1817) and the lofty place her six novels—Emma, Pride and Prejudice, Sense and Sensibility, Persuasion, Northanger Abbey and Mansfield Park—occupy in English literature. Of course, we all know that Jane Austen (Anne Hathaway) never married, and therefore a largely conjectural screen romance between Jane and a young Irish law student named Tom Lefroy (James McAvoy) cannot enjoy the happy ending the real-life Austen prescribed for her novels, that being marriage for love rather than the financial security that was deemed paramount for young women in Jane's period and country gentry class. There is recent documented evidence from Jane's letters to her sister, Cassandra (Anna Maxwell Martin), also never married, that Jane did have at least a flirtatious relationship with Lefroy when she was 20 years old, in 1795. Still, even without much of a dowry to enhance her marriageability, one doubts that the real-life Austen was as attractive as the extremely good-looking Anne Hathaway makes her appear to be. But this may just be inasmuch as I had similar problems believing that the first Queen Elizabeth in her youth looked anything like Jean Simmons in George Sydney's Young Bess (1953) or that the discoverer of radium looked anything like Greer Garson in Mervyn LeRoy's Madame Curie (1943). So much for the glossed-over world of biopics. As it happens, I did not respond with any enthusiasm to Ms. Hathaway's curiously colorless performance in David Frankel's The Devil Wears Prada (2006), but I did at least respect her assiduous attention to period detail in Becoming Jane, particularly her mastery of a pert British accent for her bouts of repartee with Mr. McAvoy.
The film was shot in Dublin and various locations in Ireland, where, happily, there are still architectural traces of life more than 200 years ago to correspond with the year 1795. Austen had been writing novelistic prose, as the movie tells us, from the age of 12. The filmmakers seemed determined to avoid the overly genteel teacup approach of most Austen film adaptations, beginning with Robert Z. Leonards' Pride and Prejudice (1940), from a screenplay by Aldous Huxley and Jane Murfin, based on a play by Helen Jerome (derived from the Austen novel), with Greer Garson as Elizabeth Bennet and Laurence Olivier as Darcy. Still, it is startling to see the Darcy-like Lefroy in bare-chested and bare-fisted combat during his wildly larkish London escapades amid vulgar crowds.
Yet when one thinks of all the earth-shattering events in Austen's lifetime—the American and French revolutions, Washington and Napoleon, Waterloo and the Congress of Vienna—one is struck by the narrow focus of Austen's universe. There is a major character in Becoming Jane, Eliza De Feuillide (Lucy Cohu), whose husband has been guillotined in France during Robespierre's brief reign, but no one spends any time talking about the social implications of the incident. Mme. de Feuillide's main task is to seduce Jane's brother into becoming her second husband, and to serve as Jane's confidante in matters of the heart. Lefroy's uncle, Judge Langlois (Ian Richardson), who denies his nephew's request to be permitted to marry Jane, is presented as a malignant hanging judge of the period.
Actually, I am typing all this drivel with tongue in cheek to remind myself of the once dominant role of socially conscious critics in both film and literature, and the orthodoxies in English departments that demeaned the works of Henry James and D.H. Lawrence and once, during a feverishly ideological spasm during World War II, actually questioned the commitment of one William Shakespeare, that toady of Tudors, to the cause of world freedom, not to mention his nationalist slander of Joan of Arc. The point is that Austen is great precisely because she concentrated her laserlike genius on such a narrow spectrum of society. This, if anything, is the "message" of Becoming Jane.
At one point, Lefroy tauntingly urges Jane to read Henry Fielding's Tom Jones so that she can learn to write like a man. She is shown doing so, and her only response to the sexism inherent in Lefroy's suggestion is a criticism of Tom Jones' lack of consideration for other people's feelings. Parallels can be and have been drawn between the characters in Becoming Jane and their counterparts in other Austen novels. Dame Maggie Smith as Lady Gresham demonstrates a humorous affinity with the role in Austen novels of the dowager aunt initiated by Edna May Oliver 67 years ago. Julie Walters as Mrs. Austen and James Cromwell as Reverend Austen deliver passionately supportive characterizations as the loving parents of Jane Austen.
Where the casting goes against tradition, and perhaps audience satisfaction as well, is in the quietly sympathetic Mr. Wisley of Laurence Fox, who plays against the usually buffoonish behavior of a heroine's rejected suitor. Mr. Wisley does indeed step on Jane's toes during a dance, but his respectfully adoring glances, and his delicate sensitivity to being rejected, make it a bit harder to see how Jane would prefer to run off with a penniless, albeit charming, rogue like Mr. McAvoy's Lefroy to settling down in comfort with Mr. Wisley and thus saving her family from penury. Last, but not least, Anna Maxwell Martin's striking incarnation of Jane's sister, Cassandra, kept my eyes glued to the screen. Ms. Martin's charmingly eccentric features reminded me of Glynis Johns and Joan Greenwood, past mistresses of a quizzical virtuosity with questioningly trick voices to match. I hope to see more of Ms. Martin in the future.
Even so, Becoming Jane struck me as decidedly de trop in striving to make the Austen character more faultlessly high-minded in her final decisions than any writer of genius should ever have to be, and probably wasn't. Mr. McAvoy's Lefroy is probably much closer to Darcy in charm and panache than the real-life Irish jurist could ever hope to be. Becoming Jane is not as good as the best Austen films, but is much better than most mainstream movies on tap.