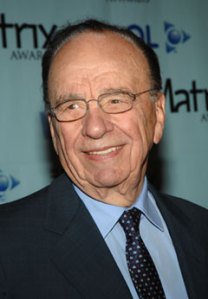 "The Bancroft family has accepted," John Prestbo, editor and executive director of Dow Jones Indexes, told Reuters today.
Now, Dow Jones is a part of the News Corp. media empire.
David Faber, the CNBC reporter who first broke the news that Rupert Murdoch had offered $5 billion to buy Dow Jones, reported this morning that Dow Jones would agree to the sale, implying that a majority of the Bancrofts had come to favor the deal.
"Today, we can tell you, it's a done deal," Faber said on the air this morning. "The definitive agreement has not been signed, but people familiar with situation tell me, it will be this evening."
"It did come awfully close, in fact, closer than many had anticipated," Faber reported. "But at the end of the day, according to people who were working on this, a number of the Bancrofts who had been somewhat vocal in their opposition—Chris Bancroft for example—seemed suddenly at the realization that they were going to have to pay all these banking fees said 'Wait a second. Hey, if you pay my fees, I'll give you my vote.' And that may have turned it."
This morning's Wall Street Journal reported that as of late last night, Mr. Bancroft had still not agreed to support the bid or to the fees deal. However, he was reportedly traveling from Boston—after meeting with Hemenway & Barnes—to Dallas.
Today, the Dow Jones board is expected to meet tonight at 7 p.m. tonight to vote for the deal; the News Corp. board has a meeting at 4 p.m.
Anticlimactically, the final sticking points appeared to have little to do with the editorial mission of Dow Jones products, which had been a major sticking point in negotiations between Rupert Murdoch and the Bancrofts.
Mr. Faber took a crack at the family members: "Many of them, willing, it seems, to throw principle to the wind—at least according to their published statements—and say, 'Ok, if you pay my fee, you get my vote.'"
In late-night wrangling last night, the problem seemed to be money. The Bancroft family missed a self-imposed 5 p.m. deadline last night to approve the bid; this morning The Wall Street Journal described yesterday "as a tense day in which some family advisers and Dow Jones board members scrambled to line up enough votes to ensure the sale. A 5 p.m. deadline set by the family came and went amid apparent brinksmanship in both camps."
Late last night, The Journal reports, the Dow Jones board was trying out a proposal that would, basically, cover all of the consulting fees the Bancrofts have accrued over the last several weeks deciding whether to sell to News Corp.:
"The late-night proposal under discussion was for the Dow Jones board to create a fund to cover payments to firms advising Bancroft family members, including Merrill Lynch and the law firms Hemenway & Barnes and Wachtell, Lipton, Rosen & Katz. News Corp. would assume these liabilities if it bought Dow Jones. The fees could total at least $30 million, according to people familiar with the situation.
Dow Jones is expected to argue that the Bancrofts deserve help with their advisory fees because their trusts are so complicated. Common shareholders don't face many of these fees."
Rupert Murdoch had been public about his frustration with the progress of the Bancrofts talks. He would withdraw his bid altogether, he said, if he did not receive assurances that the Bancrofts, who control 64 percent of Dow Jones votes, could deliver him a majority when the full Dow Jones board meets to approve of the deal.