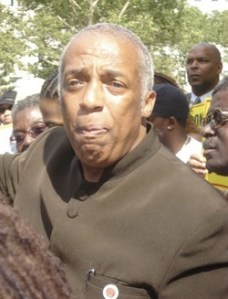 At a boisterous campaign rally on the City Hall steps Sunday, Charles Barron announced his candidacy for Brooklyn Borough President. He was introduced by one rally organizer as "our comrade, our leader, our teacher, our god, our motivator, our inspirer."
"We're tired of complaining of ineffective leaders. It's time to replace them," Barron said. "That's why when we say operation, you say 'POWER!'"
And then came the campaign promises. "Am I gonna be a borough president for all the people? Absolutely. But I'm letting you all know now, I'm taking care of black folks."
Also in attendance was Al Sharpton, who said, "I'll do whatever we gotta do to elect Charles Barron the president of the borough of Brooklyn."
Later, in an interview with Observer super-intern Andrew Mangino, Barron had this to say about the coverage of his run: "Most media outlets are run by white, male editors, correct? There's no way in the world that, 99 percent of media outlets controlled by white males, that there's not going to be no hint of racism in it? I mean that's unrealistic."
Then, he added, "The Post, I think, is a racist newspaper, because anybody who is pro-black they consider controversial. The Post is racist. FOX 5 is racist. You know, I think there's racism in everything."
So much for that endorsement.