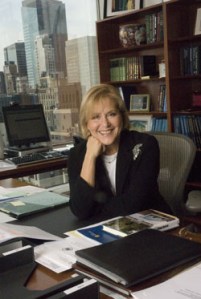 It is not clear what exactly Judith Rodin, former president of the University of Pennsylvania, has been whispering in the ear of Columbia University President Lee Bollinger, but trust that it has something to do with Harlem.
Just as Columbia presses its case for its expansion into Manhattanville, Dr. Rodin, now president of the New York–based Rockefeller Foundation, has published a book on her decade at Penn, where she initiated a number of town-gown projects that both improved the surrounding neighborhood and eased animosity toward the Ivy League school. Ever since, she has been widely lauded as the arbiter of modern, enlightened community-university relations. When she announced she would leave Penn, the Philadelphia Daily News, a tabloid, put her photo on the cover above the words: "Judy! Judy! Judy!"
"He and I have talked several times," Dr. Rodin said about Mr. Bollinger, without elaborating. "We've talked very minimally. The work is still ahead."
Her book, The University & Urban Revival: Out of the Ivory Tower and Into the Streets (University of Pennsylvania Press), came out July 24. Already, Robert Kasdin, Columbia's senior executive vice president, said he is reading it. Mr. Bollinger was traveling, but a spokesman said he had eagerly been awaiting its publication.
All of which should counter the refrain that some detractors of Columbia's plan to rezone 17 acres of West Harlem for a third campus have been voicing recently, which is, "Do it like Penn!"
Penn, for example, donated land for a public school and helped plan and run it. The university set up a business-improvement district that picked up litter and brightened street lights. It gave university employees cash to buy homes near campus and invested in renovating rental buildings. This all happened, however, not to butter up neighbors for an expansion, but because crime and blight were threatening the university's survival.
Columbia has been eyeing Penn's example for a while: David Stone, who was hired last year as executive vice president for communications, worked for Dr. Rodin as a consultant on the West Philadelphia initiatives, and a couple of other high-level hires worked for Penn or are otherwise familiar with the collaborations.
"There are a number of us here now that were involved in the West Philadelphia initiatives who are here to ensure and clarify the focus that universities are important civic and economic actors in the community," Mr. Stone said.
On the other hand, it is unclear just what Mr. Bollinger can learn from Penn because of differences between the two campuses. West Philadelphia was, at least as Dr. Rodin describes it, blighted, crime-ridden and on the way out. Harlemites are already facing gentrification from private developers, and the idea of a stuffy, privileged institution setting up shop cannot help but create some friction.
"In a way, Columbia has a much tougher job. They are incredibly landlocked and so the stakes are even higher," Dr. Rodin said. "Unless they work together, it is not going to work. Columbia's aspirations could be blocked. The community could be displaced. And we'll see another play-out of years and years and years of antagonism."