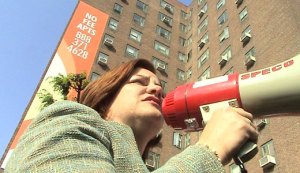 A little more than two years ago, City Council Member Christine Quinn's red hair would be at the front of any rally protesting the proposed West Side football stadium, complaining about the traffic, the taxpayer subsidies, the lack of any sort of meaningful input from the neighborhood where it was going to go.
The sort of fame—and notoriety—that her opposition gave her may have done her good: Shortly after the stadium died, Ms. Quinn ascended to Speaker of the City Council. But in a funny twist that may only make sense, Ms. Quinn has abandoned the rabble-rousing that first gave her such a high profile, and is now the consummate real estate insider.
Nothing made that clearer than last week, when the City Council Speaker appeared amidst a string of dignitaries a block away from where the stadium would've gone. This time, Ms. Quinn was helping announce a deal that she had helped put together; it's a plan that will allow real estate developers to build 12 million square feet of apartments and offices (more than the original Rockefeller Center) in towers stretching maybe 40, 50 or even 60 stories high, on top of platforms over Metropolitan Transportation Authority train yards.
"There has been a lot of discussion about what the future of these yards would be and what was the appropriate and right thing to build on these yards," she said. "It was not a winner-take-all process. It was not an all or nothing."
Since becoming Speaker in 2006, Ms. Quinn has taken more of a join-'em rather than beat-'em approach in general, and she has arguably accomplished more as a result.
She largely adopted the Mayor's position in negotiations over the 421a housing tax abatement last fall in the City Council, although she extended the area where full taxes would be paid on new developments to head off a further revolt among some council members. And, in a hit she took for her neighborhood, she endorsed Mr. Bloomberg's trash plan even though it meant turning the Gansevoort Peninsula in Hudson River Park into a recycling facility, a move many residents opposed.
When she did take up a bullhorn and protest the sale of Stuyvesant Town and Peter Cooper Village last fall, she did not appear to accomplish much except for a cursory review of a union-backed plan that would have kept rents on a certain percentage of apartments below-market
THE FACT THAT MS. QUINN STOOD AT THE West Side rail yards last week, trumpeting the future development of not only an important parcel of land but also a parcel of land in her own district, was therefore not as paradoxical as it might have seemed. But it was a tremendous political risk to endorse a rezoning plan that might, once the public gets a better look at it, turn out to be unpopular among her constituents.
What usually happens when a piece of raw land becomes hot, as the rail yards did, is that the city undertakes a seven-month rezoning process, called the Uniform Land Use Review Procedure, or ULURP, in which a proposal wends its way from community board to planning commission to the City Council, getting tweaked or prodded along the way—and sometimes outright killed—as a result of community pressure. It is, in fact, this process that usually gives the local City Council member the utmost influence over the project.