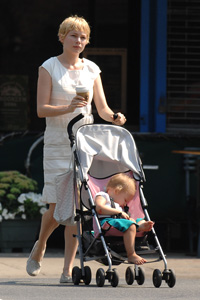 On the hot, sunny afternoon of Sunday, July 22, an enormous throng of young families was streaming toward the Prospect Park Bandshell to enjoy the free musical stylings of former Del Fuegos singer-turned-kiddie rocker Dan Zanes.
In a tented V.I.P. area, disaffected mommies, sipping Chardonnay as their sticky-faced toddlers twirled enthusiastically to the beat, perked up considerably at the somewhat tardy arrival of Cobble Hill celebrity Michelle Williams (Dawson's Creek, Brokeback Mountain). According to a frighteningly observant mommy source, Ms. Williams was looking very late-60's Mia Farrow with her blond pixie haircut, wearing a striped lavender-and-black baby doll knit jumper and dark Ray-Ban sunglasses, and pushing a pink Maclaren stroller that contained her 21-month-old daughter, Matilda (clad in a simple red cotton dress, diaper and purple Crocs). "She took her out and bounced her up and down near the front of the stage," said the source, who also—quel scandale!—overheard a concert organizer gripe that Ms. Williams "was down for plus-one, and when she showed up it was suddenly plus-10."
But curiously, there was no entourage in evidence; certainly not the actress' fiancé, actor Heath Ledger; her only adult companion was a blond, slightly stockier woman ("looked more like a friend than a nanny" said the source).
"Unfortunately, Michelle is not available," Ms. Williams' publicist e-mailed The Transom when asked for an explanation.