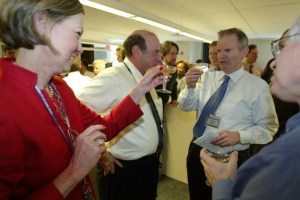 When CNBC first broke the news of Rupert Murdoch's $5 billion for Dow Jones on May 1, Wall Street Journal staffers in the newsroom had to watch the story unfold on television through the afternoon.
So The Journal got scooped on its own story. But things got worse when the New York Times reported, a week later, that Mr. Murdoch had emailed managing editor Paul Steiger in late April, "offering his reassurances that he would uphold the editorial integrity of The Journal if he were successful" in his bid.
Mr. Steiger, through a spokesperson, took the rap manfully when The Times called. There, Mr. Steiger said that it was his decision—and not C.E.O. Richard Zannino's—to hold off on reporting the story. Subsequently, Mr. Steiger told the New Yorker's Ken Auletta that Mr. Murdoch had contacted him in his role as an executive, not as a journalist.
A former Journal staffer said that Mr. Steiger made "a deeply damaging decision" by sitting on the story. And despite The Journal's comprehensive coverage since May 1, according to this former staffer, that's "the main thing" that people will take away.
Of course, The Journal has been breaking news on the deal with more frequency than any other publication during the past two-and-a-half months—both in print and online. But whether the Bancrofts take the deal next week or not, there will be lingering questions about whether Mr. Steiger was the right choice to oversee the coverage, if it appears like there's a conflict of interest.
Mr. Steiger—forced to retire by the end of 2007, due to mandatory retirement policies, officially stepped down on May 15, and assumed the position of editor at large. Shortly thereafter, managing editor Marcus Brauchli asked him to oversee The Journal's coverage of the deal.
It had already been reported before he stepped down that Mr. Steiger, through equity in his employers' company, could pocket about $5 million if the deal goes through, and on July 17, The Journal reported that Mr. Murdoch "suggested the possibility of nominating [Mr. Steiger] to the board of News Corp."
That same day, The Observer asked Mr. Brauchli whether someone who stands to gain so much from the result of a deal to sell Dow Jones to Rupert Murdoch should be running the coverage of the deal.
"I don't think Paul has to recuse himself if someone is talking about him, or even if someone is publicly musing about putting him in a job," he wrote in an email. "It's all speculative as of now."
"He shouldn't have been directing coverage since the get go," said one Journal staffer, citing Mr. Steiger's confessed decision to suppress the story in his role as an executive that he surely would have pursued in his role as a journalist.
When asked about the possible board seat for Mr. Steiger at News Corp., the staffer continued: "He's got to recuse himself. There are 15 other people who could do the job."
Several staffers in the Journal newsroom who were interviewed by The Observer this week said that it was their impression that Mr. Steiger supports Mr. Murdoch's bid.
Mr. Steiger "basically said that he thinks the Murdoch deal is better than going alone," said one Journal staffer who is familiar with his thinking. And: "He thinks the Journal's culture is strong enough to withstand Murdoch, but is in too dire straits to survive on its own."
Mr. Steiger did not return phone calls to The Observer asking whether his position on the deal was known in the newsroom, whether he stood to gain as much as $5 million, or what if any reason there was to entrust him with the newsroom's coverage of the Murdoch deal.
Alix Freedman, who oversees ethical standards, also would not answer questions about Mr. Steiger's assignment, referring them to a Dow Jones spokesperson.
A spokesperson for Dow Jones said that he was traveling in Europe, though Mr. Steiger has answered other questions about the deal put to him by other reporters.
Instead, Dow Jones issued a series of statements via email which were revised several times and finally vetted by lawyers for the firm, though the substance of the statements remained the same throughout.
"In recent weeks Mr. Steiger has had many conversations with many staffers on different aspects of the proposed deal," a Dow Jones spokesperson in an email, on July 20.
The spokesperson also wrote that Mr. Steiger's "private views undoubtedly are complex," and only once commented publicly on his own feelings about the deal, in a June 2 piece by Ken Auletta in The New Yorker.
There, Mr. Steiger told Mr. Auletta that he has "conflicting, competing worries, and conflicting, competing hopes."
Mr. Auletta later wrote that Mr. Steiger "worried that Dow Jones was too small, and Murdoch too big; he hoped that the Journal could stay independent, but feared it could not; he hoped that News Corp. could provide the resources that Dow Jones needed, but feared that Murdoch might find it irresistible to interfere in Journal coverage."
"The senior editors of the Journal have full confidence in Mr. Steiger's ability to supervise full and fair coverage of the Dow Jones/Murdoch story, based on his record as managing editor for 16 years and more recently as editor at large," wrote a spokesperson.
And the reported $5 million?
"Whatever Mr. Steiger's compensation and equity stake in Dow Jones, which he believes is less than $5 million, much of that sum reflects deferred income and other previously earned benefits that Mr. Steiger has accumulated over his 24 years at the company," the spokesperson wrote.
"It is of course challenging for any publication to cover itself," the spokesperson wrote. "Most of the staff, including Mr. Steiger, stands to benefit financially if the deal happens, based on stock and in some cases options that they have obtained over the years…. But as professional journalists they set aside those conflicting emotions. The resulting coverage speaks for itself."
Indeed, another Journal staffer told The Observer that the paper's cover has been "very good," but that it doesn't make sense to allow Mr. Steiger—who stands to "make far and away more money" than other senior editors, to continue in that role if it appears there's an ethical conflict. "Why put [the coverage] in the hands of the guy who has most financial stake?" asked the staffer.