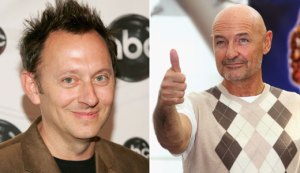 Each year when the Emmys are announced, I'm surprised by how little conversation they inspire. No Emmy pools; no heated dinner-party debates over best actor in a drama; no party plans made for the night of the broadcast. Almost everyone watches television, and everyone—even the luddites among us—has strong feelings about it. So why don't we care very much about the single night of the year that television is honored?
Maybe it's as simple as this: the Emmys are dumb. Look at the nominees this year. There are some justified honors—Justin Timberlake and "Dick in a Box" for 'Oustanding Original Music and Lyrics," Ricky Gervais for his work as a writer and actor on, and director of, Extras. But there's also so much that seems so, so wrong. Not just in terms of undeserved accolades, but in the very categories. How can a show like House—an excellent, addictive if totally formulaic show (misdiagnose, misdiagnose, almost kill patient and wham! Patient cured!) even be compared to that epic favorite, The Sopranos? And then to put them both up against Grey's Anatomy, which is sort of like a nighttime soap opera…? I don't know. (Sorry Grey's fans: I hate E.R. even more.) With all the great, weird, risky stuff on the cable networks (please, watch John from Cincinnati) these contests just aren't making that much sense anymore.
But nothing's changing anytime soon. So, about this year's awards…. Not too many surprises. (You can see the full list here.) I applauded (literally) the nominations of both Michael Emerson and Terry O'Quinn for their creepy characters on the (yet again!) snubbed Lost. (I know we fans are cultish, but seriously—the last season finale was the best season wrap for any show ever.) And also, huzzah for the nod to Neil Patrick Harris for his womanizing Barney Stinson on the better-than-Friends comic masterpiece How I Met Your Mother. It's also great that Entourage picked up a few noms—for Jeremy Piven, Kevin Dillon (both supporting actors in a comedy) as well as for best comedy series. But I hope the praise won't go to anyone's head. The show is sliding in its third season, and the hilarious character Mr. Dillon has made so popular is beginning to morph into a caricature. And also, Adrian Grenier not earning a nom? That's okay. He's pretty, but he can't really act (ergo, neither can Vinnie Chase). Sorry.
Last thing. With the end of the Gilmore Girls last spring came the final chance for the brilliant, gorgeous, best woman role model in the world Lauren Graham (and yes, I mean Lauren Graham is a great role model, just like her character Lorelai Gilmore) to get an Emmy nod for her work on a show that managed to be loved by the family values folk as well as indie rockers everywhere. And what about Kelly Bishop (perhaps best remembered as Jennifer Grey's mom in Dirty Dancing) who played Lorelai's uber-WASP mother, Emily? If only there were an Emmy write-in campaign, I'd launch it now. TV is a little less smart without these two whip-smart women. They were robbed, and so were we.