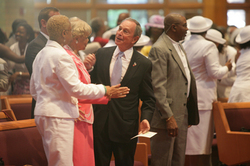 The head of the Working Families Party told supporters in an email that the governor "proposed new rules on campaign finance that angered his enemies and disappointed his friends, and that's not a strategically smart place to be."
Judicial Watch is suing to get Hillary Clinton's phone records from her White House days.
Ben has a rundown of the best-paid political consultants.
Liz lists who in the City Council is for, against, and sort of undecided on congestion pricing.
Malcolm Smith said the fight between Eliot Spitzer and Joe Bruno isn't so bad.
State Senator Jose Serrano blogs about an essay contest for public school students that may have only been conducted in Republican districts.
City Hall News looks at Rudy Giuliani's capacity to save New York Republicans.
Pylons are rising at Ground Zero.
Jennifer Siegel is surprised that John McCain is still scheduled to raise funds for a Republican Jewish Coalition event in New York next week.
A former press secretary for Hillary Clinton returns to Hillaryland, as a VP for the Glover Park Group.
Everybody wants Frank Lautenberg's U.S.Senate seat.
Bill Richardson is citing the number of casualties in the Iraq war in his latest ad.
An explosion in Midtown, most likely caused by a transformer, led to several buildings being evacuated [added].
And pictured above is Michael Bloomberg trying to drum up support for congestion pricing over the weekend.