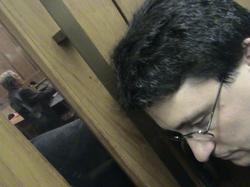 Joe Wilson, husband of outed CIA agent Valerie Plame, endorsed Hillary Clinton.
The latest mess involving Alan Hevesi has cost a current employee in the state comptroller's office his job.
A federal judge disagreed with a majority opinion without reading it.
The Brennan Center wants the Supreme Court to uphold the decision in the Lopez-Torres case about judicial elections.
The Democratic state chairman in New Jersey wants the indicted Sharpe James to resign his state Senate seat.
Barack Obama has a fancy pollster in California.
John McCain's press staff resigned, according to Potamac Flacks.
Jimmy Breslin is coming to Broadway.
And pictured above is Post reporter Ken Lovett gathering information on Michael Bloomberg's presentation to Assembly Republicans in Albany.