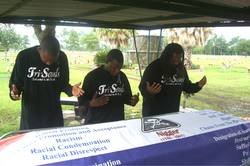 Hillary Clinton, John Edwards and Barack Obama are holy, reports Time.
George Bush's optimistic views about Iraq were met with an onslaught of criticism from Democratic presidential candidates.
The Economist notices how bad things have gotten in Albany.
City Hall is hoping Eliot Spitzer will veto the 421a legislation.
Liz wonders how Michael Bloomberg will respond to Sheldon Silver.
Danny Hakim notes that the Assembly chamber is under construction.
Sharpe James was indicted.
Freshman Democratic Congress member Kirsten Gillibrand has yet another Republican challenger.
Dan Cantor toots his horn over how quickly Connecticut changed its election law after Cantor started blogging.
Cockfighting is finally banned in Louisiana.
http://www.newsday.com/news/nationworld/nation/wire/sns-ap-cockfighting-ban,0,191393.story?coll=sns-ap-nation-headlines
And pictured above is the funeral Leroy Comrie held in order to bury The N-Word.