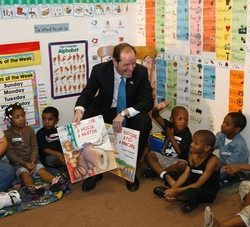 Some members of the national media noticed that Michael Bloomberg was in D.C. today.
Hillary Clinton, Barack Obama and John Edwards reportedly will attend a televised debate about LGBT issues.
Hillary Clinton widens her lead over Barack Obama.
Hillary Clinton's wonder staffer Huma Abedin and Gregory Meeks' aide Mike McKay are among the most traveled NY congressional staffers, according to this database.
Assemblyman Michael Benjamin of the Bronx says the fight between Eliot Spitzer and Joe Bruno is "like Hamas vs. Hezbollah. But w/o the AK-47s and RPGs."
Here is a clip of the CNN story on the fight.
Spitzer may not be able to get as much environmental money as he hoped.
Bloomberg, L.P. went green today.
Sheldon Silver and Tom Suozzi may become friends.
It's unclear whether Malcolm Smith can deliver the votes on congestion pricing.
Marc Ambinder said John McCain's former campaign manager was able to gain control of the fund-raising operation, but unable to contain spending.
Joe Lieberman trash-talks anti-war senators.
Rapper Busta Rhymes has four trials coming up.
And pictured above is Eliot Spitzer reading to children in Albany yesterday.