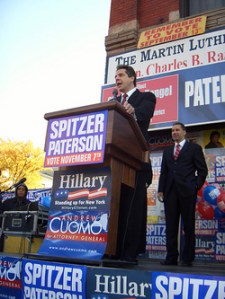 A baseball connection Darren Dopp had with Mario Cuomo didn't help him much this week.
Evan Thies pens a column noting that New Yorkers can file civil suits against out-of-state gun dealers, thanks to a bill from his old boss, David Yassky.
Jerry Skurnik explains who is running for office.
Hillary Clinton won this poll, taken right after last night's CNN/YouTube debate.
Ben doesn't think that Hillary Clinton flip-flopped when she criticized Barack Obama for saying he'd meet with the dictators of the same countries she'd have diplomatic discussions with.
If you missed the YouTube debate, it's mostly here.
Lindsay Lohan was booked for DUI and drug possession.
And pictured above is Andrew Cuomo during a campaign stop with Eliot Spitzer.