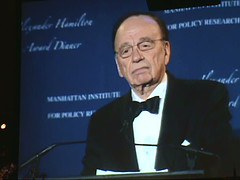 Writing on Huffington Post, Joan Gary says Eliot Spitzer and actor Isiah Washington "have both apologized. And both of them deserve the opportunity to illustrate that they mean it."
Spitzer said if he knew what his aides were doing, he would have stopped it.
The state Senate will hold its own hearings on Spitzer's problems.
In the comments section, silentsheela makes a request for Spitzer's emails.
Here's an email that may help explain why a judicial candidate in Brooklyn suddenly dropped out his race.
Glenn Thrush predicts that the Clinton campaign will step up the pace in New Hampshire.
Ben has video of Hillary saying something vague about needle exchange programs.
Jeanine Pirro may have some good reason to donate to Rudy Giuliani's rival, John McCain.
There's a lot of demand out there for Alberto Gonzales to be investigated.
Ryan Sager explains the logic behind early polls.
Greg Sargent suspects that Mitt Romney's daring new television ad may have been focus-tested.
Political Wire is looking for an intern.
The guys from Red State Update explain the kind of debate they'd stage with Republican presidential candidates.
And above is Rupert Murdoch, who just bought the Wall Street Journal.