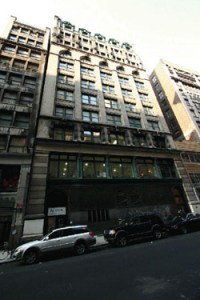 For more than 40 years, the publisher Farrar, Straus and Giroux has been the tweedy, stubborn holdout on Union Square. Even if everything around it is changing (the Amalgamated Bank building turning condo, the new glass tower going up at the corner of 14th and University), its ramshackle headquarters has stood firm at 19 Union Square West.
But by December, it'll be gone.
Farrar, Straus and Giroux, the imprint of luminaries like Tom Wolfe and Seamus Heaney, is taking a 10-year lease on 32,000 square feet on the seventh and eighth floors of 18 West 18th Street.
It'll be the publishing house's first building move since 1961.
"The 19 Union Square West address is a part of the traditional identity that the company has had," said Jonathan Galassi, the president of Farrar, Straus and Giroux. "We're closely identified with it and we're sad in some ways about leaving it."
Broken linoleum floors, cluttered desks, peeling walls—all with a backdrop of a Union Square Park that was littered with needles and junkies—have historically been part of the company's small-house charm. Mr. Galassi remembered Calvin Trillin comparing it to a "branch office of a failing insurance company." Even after relocating to cleaner space upstairs, its offices at 19 Union Square West still gave off an aura of significance.
Later this year, Farrar, Straus and Giroux will set up shop in the 11-story building on 18th Street. The publisher's new two-floor home will be gutted and refitted to its needs.
"The building has a wonderful rectangular floor plate," said Tara Stacom, a broker at the firm Cushman & Wakefield and the leasing agent at 18 West 18th Street. "It has huge windows and it has character because it's vintage. It has old wood floors and brick walls in some places."
The new office will be something of a statement by the publisher. There's been a gravitational pull in recent years for publishing houses to consolidate their homes. Random House and its more than 100 imprints moved to a new 53-story tower at 1745 Broadway in 2002; Knopf followed them. In 2005, St. Martin's Press, Tor Books, Picador USA, Henry Holt and its imprints Metropolitan Books, Times Books and Owl Books all grouped up and moved into the Flatiron building.
In a way, Farrar, Straus and Giroux's move to a building that houses the sales department of The New York Post and a software company named Macrovision is its own defiant response to that trend—even if its new spread can't quite replace its traditional home.
"I'm going to miss the openness and miss the Square and miss the sense of the building," said Mr. Galassi. "But we're getting something great in exchange."