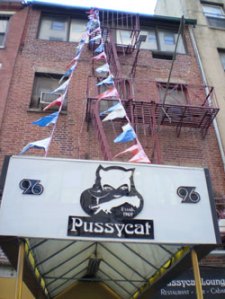 "This is the only little piece left of what downtown used to look like," said Robert Kremer, proprietor of the Pussycat Lounge, the 34-year-old topless bar-cum–rock concert club in Manhattan's financial district.
The longtime flesh-peddler, who's become a historic-preservation activist, was standing outside his bar at 96 Greenwich Street along a stretch of shabby old buildings, some dating back more than two centuries, many currently occupied by adult-themed retailers, both the overt and the less obvious kind, three blocks south of the World Trade Center ruins—itself, a sort of ground zero in terms of the city's current hotel boom.
Ravenous real-estate tycoon and lodging monger Sam Chang, the deep-pocketed developer behind some 20 new hotel projects now under way in Manhattan and Brooklyn, has at least three hotels planned for Mr. Kremer's immediate neighborhood alone.
The forthcoming hotels essentially have Mr. Kremer's Pussycat Lounge surrounded: a 300-room hotel next-door on Greenwich Street; a 350-room hotel directly behind it on Washington Street; and a 186-room hotel just up Rector Street on Trinity Place. Not that Mr. Chang necessarily needs to surround the lounge—he bought its building in 2005.
The hotelier's ambitious plot would do more than merely provide 800-plus brand-spankin'-new overnight suites for Wall Street–area business and leisure travelers. It would also cleanse the block of many seedy Old New York charms, such as Thunder Lingerie's alluring peep-show booths, as well as Mr. Kremer's precious nightclub, which Mr. Chang intends to demolish to make a driveway—a proposal the bar owner continues to fight on several fronts.
IN ADDITION TO SUING MR. CHANG in Manhattan Supreme Court, Mr. Kremer has made headlines by lobbying to have the Pussycat Lounge designated as an official city landmark—not as the Pussycat Lounge, per se, but rather the "Augustus Hicks Lawrence House," named in honor of the Wall Street financier for whom the four-story brick row house was originally built back in 1799. In other prior lives, it served as a restaurant and rooming house, as well as a brothel.
"Whatever it is now, it's still part of history," Mr. Kremer told The Observer.
Perhaps not surprisingly, six months after his formal presentation to the city's Landmarks Preservation Commission, Mr. Kremer is still awaiting an official response from Chairman Robert Tierney.
And waiting. And waiting. "It's just sitting on Mr. Tierney's desk," charged a frustrated Mr. Kremer. (A spokesperson for the commission said the proposal remains "under review.")
Meanwhile, the purge of adult entertainers may have already begun. This past March, police reportedly busted a purported art gallery, located in the building next door to the Pussycat Lounge, and charged the proprietor with running a brothel. The raid came a mere nine months after Mr. Chang became the gallerist's landlord, acquiring the five-story building at 100 Greenwich Street for $15.2 million, with plans to tear it down and erect a 39-floor hotel on-site.
And, in July, an undercover TV news crew, acting on a tip, infiltrated the not-so-secret back room at neighboring Cordato's deli, where scantily clad dancers were videotaped allegedly performing lap dances for $10 a pop.
Mr. Kremer has since publicly voiced suspicions that perhaps Mr. Chang was somehow behind the neighborhood's erotic crackdown. "I'm sure it came from the developer," he told New York magazine's Grub Street blog, citing also a recent spike in regulatory inspections of businesses on the block.