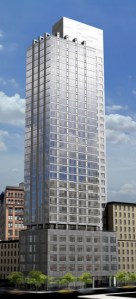 It's a testament to the revival of lower Manhattan in so many ways that the following is routine, rather than surprising: Florida-based EB Developers plan a 280-room four-star hotel on a plot it recently bought for $45 million at 133 Greenwich Street, just south of the World Trade Center site.
Nearby, Joseph Moinian is building a 53-story W Hotel and condominium complex at 123 Washington Street, and plans are in the works for a 38-room boutique hotel at 50 Trinity Place as well as for a Sam Chang hotel at 33 Beekman Street.
"Downtown is an extremely hot market for hotels right now," EB Developers Vice President and General Counsel Daniel Kaskel told The Observer. "At one point, we discussed a hotel with condos on top, but because of the location, we decided that keeping the building a hotel is the best use for this area."
Mr. Kaskel said construction will start in six months and be completed in about two years. Like any ambitious developer, however, the company is lobbying for additional development rights that could hold the process up.
"We are working on securing further rights that could increase the scope of the project, but we should have most if not all of the outstanding issues finalized within a few months," Mr. Kaskel said.