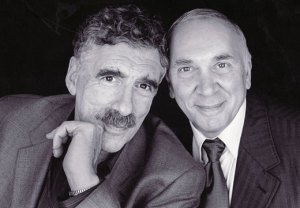 "The balance is changing in terms of ethnicity, but right now there's a breeze," Elliott Gould sighed of New York City on the Midtown set of his latest film, On the Hook. The dramatic thriller, whose plot grows out of Nazi-occupied France and into the abyss of American corporate corruption, is the sophomore effort of director Richard Ledes and will hit theaters sometime next year. Expectations already run high for the indie, which co-stars Frank Langella, a recent Tony-winner for Frost/Nixon, and the raven-haired Laura Harring of Mulholland Drive.
In the film, Mr. Gould, 68, plays a P.I. like Philip Marlowe, his character in Robert Altman's The Long Goodbye, but the two roles "are very different—I don't have a cat in this," he joked. (At least he won't have to hunt for Curry brand cat food!)
An Oscar-nominated actor, Mr. Gould's notoriety hangs on a myriad of memorable performances in films like Mr. Altman's MASH, Barry Levinson's Bugsy and, most recently, Steven Soderbergh's smirky, cookies-in-bed Ocean's franchise. And don't forget him as Monica and Ross' dad on Friends. And though he decamped for Los Angeles ages ago, his heart still lies here in New York, the city of his youth.
"It's nice to have been a native here, and be a native here," said the actor, who was conceived in Far Rockaway. "It's great for me to be able to come back and film."