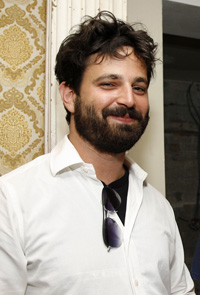 For the last couple of weeks, the proprietors of the exclusive Chrystie Street burlesque venue The Box have been previewing what they call a "totally different" experience: a dinner theater called Pandora.
The new show, which principal owner Simon Hammerstein expects to put into regular rotation this fall, will be open to anyone willing to drop $165 for a ticket. The price of admission includes a family-style dinner of hearty American fare served at 7 p.m. and a three-hour performance that had until now been restricted to the city's hipster elite and Hollywood celebrities such as Demi Moore and Ashton Kutcher. Pandora will borrow from much of The Box's troupe of dancers, singers, knife-throwers and fire-eaters; though Mr. Hammerstein allowed that some of the lewder sex acts, particularly from the infamous Tuesday night show, will be omitted. Still, he said, "there will be something for everyone, of every sexuality."
What does this mean? Is the city's population of night-crawling scenesters with a taste for drag queens and vaudeville not quite as big as Mr. Hammerstein had hoped? On the contrary, he claimed, dinner theater was always part of The Box's grand plan.
"The night show is something that is very exclusive," Mr. Hammerstein said. "This is something totally different. There are a lot of people with families and jobs who can't stay up till three in the morning, and we've always planned to do something for them as well." So thoughtful.
And the juggernaut isn't stopping there. "We're also planning another show," Mr. Hammerstein said. "We're not sure what it'll be yet—we've talked about doing a circus or a musical." Still, the scion of theatrical royalty insisted his acts will never lose their edge. "That would be the death of us," he said.