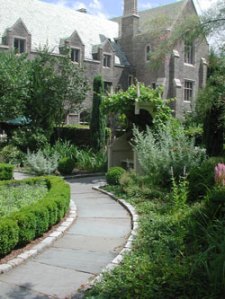 In summer, New York can feel like hell: too hot, crowded with grumps, oppressive. But our city does hide some secret oases, public green spaces that are like secret gardens, secluded and intimate. Take the shady lawn at the Cooper Hewitt, with its immaculate perennial borders, and the Hudson-view Heather Garden at Fort Tryon—both are spectacularly underutilized respites from sweaty city life. But the best secret space of all might be the Biblical Garden, a tiny, well-tended plot hidden in a corner of the 11.3 acres occupied by the Cathedral of Saint John the Divine.
A circle in a square, enclosed by a stone wall, the garden contains plants mentioned in the Bible. With its Gothic follies and formal boxwood parterres, it's also a flashback to merry old England. Elsa Williams, an architect-turned-professional gardener with her own firm, maintains the garden (it's one of about 50 tended by her and her crew), and she recently led me on a guided tour.
The Cedars of Lebanon, the Judas Rosebud, the fig, the grape, and the four date palms are all reassuringly Biblical, but the aforementioned boxwood (Buxus sempervirens)—hard to imagine that surviving a day in Damascus. And exactly which lilies are the real "lilies of the field"? Elsa reassured me that although there is "much confusion" among scholars, the garden design (by Keith Corlett, whose clients have included Kathleen Turner, Calvin Trillin and Garry Trudeau) was the result of painstaking research.
In the center, an elaborate 12-foot mosaic mimics the cathedral's rose window; directly north, an even more intimate space called the Meditation Walk is lined with herbs and stone benches. For a dreamy end to your visit of this heavenly space, wander over to the resident peacocks on the Pulpit Green. You'll feel spirited away.
Biblical Garden, Cathedral of Saint John the Divine, Amsterdam Ave., between 110 and 113 streets.