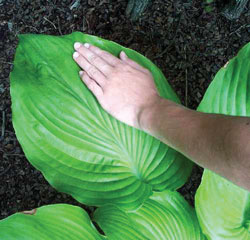 In 1936, after her children were grown, Mrs. Frances Williams of Winchester, Massachusetts, decided to dedicate her life to spreading the gospel of hosta. An MIT graduate, she discovered that hostas perfectly suited her shady, one-third-acre plot on Highland Avenue and went about establishing a nonpareil collection—gathering seeds from Japan (hostas originated in Asia), hybridyzing, naming and introducing many varieties until her death, in 1969. Her work had lasting influence. America's love affair with hostas continues today—they are the No.1-selling perennial, with more than 2,500 varieties available, including hosta sieboldiana Frances Williams.
Besides hostas' no-fuss disposition—they thrive on neglect—gardeners love the fact that they can curate a collection. In my Riverside Park garden, I have four varieties, all with diverse foliage, all good-looking throughout the season. My favorite is Sum and Substance, with its ridiculously scaled leaves—at two feet wide they look like elephant ears. These jumbo chartreuse leaves are a perfect foil to the scattered boulders on the shady hillside. Hosta Frances, with its dark green leaves, has a clean white margin that any designer could love.
Hostas' stately flowers rise on tall stalks above the dense foliage, and look lovely when closely massed. And mass they do—the clumps just keep on coming, squeezing out weeds and providing a great cover under shady garden areas. Don't be afraid to divide them in the fall: Just slice the crown (the clump at the base of the leaves) and give half to a friend to start her own collection.