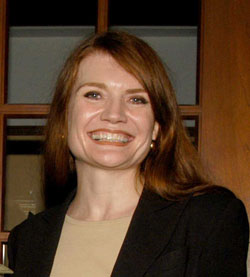 Jeannette Walls was a bit reticent describing the state of contemporary gossip when The Observer caught up with her.
It was July 31, and she took a break from cleaning out her desk in MSNBC.com's offices in Secaucus, N.J., on her last day at the network after eight years of writing The Scoop, the site's brisk and bustling gossip sheet. Her friends at the network were set to throw her a party in the evening.
"It's the wild, wild west now," she said. "For a lot of sites, anything goes. It's really changed the industry a lot."
Ms. Walls said that writing about characters like Lindsay Lohan and Paris Hilton is not just about satisfying a reader's schadenfreude.
"Gossip is all about psychology and what motivates people," Ms. Walls said. "I don't think it needs to be vicious, brutal or cruel. It's about who the person truly is."
Her final column, from July 26, was about gossip mainstay Lindsay Lohan in which Laguna Beach star Jessica Smith offers advice to the D.U.I.-studded starlet.
"I think [Lohan] needs real help, not Promises-type of help with massages and everything," she quoted Ms. Smith as saying. "She needs to go to a real place to address her problem. The bottom line is she needs help. She keeps messing up."
Ms. Walls said that the current Lindsay Lohan rehab-in, rehab-out story line is a perfect example of how celebrities who appear to be out of control can make more sense when you look at their lives closely enough.
"Sometimes, when you see a situation and it doesn't make sense, and you dig deeper, it starts to make sense," she said.
She was able to make some sense of herself when she wrote her memoir, The Glass Castle, which opens with the writer looking out of her taxi window wondering if she's overdressed for the evening and seeing her mother on the sidewalk, "rooting through a Dumpster."
Ms. Walls, by her account, is still traveling to discuss the best-selling book—which also got a little help from someone named Oprah Winfrey. She said the ongoing enthusiasm for the book has become almost a full-time job, and there's more coming where it came from.
"I'm busier than ever with it," she said of the book, which was first published in 2005. "It was just not fair to MSNBC and to me."
She won't say what the next book is, except that it's nonfiction and not about her own experiences. Saying any more about it was "bad karma," she said.
The karmic wheel is familiar to gossip writers. She said it was a hazard for her writing The Scoop, "when you're writing about somebody and they've read your book."
"It's not letting your guard down," she added. "You humanize yourself. It's a dangerous thing sometimes."
Now, Ms. Walls said she will continue following the gossip columns, not to mention the Internet—where bloggers are becoming celebrities themselves. (Wasn't that orange-haired Perez Hilton on the front of The New York Times Style section this past week?)
"To a large degree," she said, "gossip is really taking over the news."