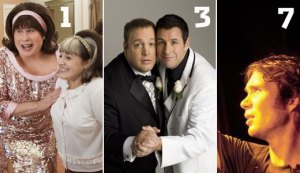 With the best and largest opening for a musical—even when adjusted for inflation—Hairspray was the number one movie in New York City over the weekend, beating out both Harry Potter and the Order of the Phoenix and I Now Pronounce You Chuck and Larry by a solid margin. What happened here, Manhattan? Do tourists come here to see movies, too?
Hairspray and Chuck and Larry switch spots on the national box office chart, with the Adam Sandler and Kevin Brown comedy besting the musical by $7 Million. Apparently there was some trepidation within the industry that the audience for these two movies would overlap and eat into each other's profits. Wha? This could have been the smartest counter-programming move this summer, hands down.
Danny Boyle's Sunshine—the science fiction actioner starring Cillian Murphy (who basically reprises his Red Eye role, but, y'know, on a spaceship)—cracked the top ten with an above $25,000 average on 3 screens. These are strong, but not fantastic numbers for Fox Searchlight, who has been in the Danny Boyle business since the surprise hit 28 Days Later.
Neither a "Talk of the Town" item, nor a much-rumored-about nude scene featuring Natalie Portman, could propel the Milos Forman directed Goya's Ghosts into the top ten. In its defense, it is only playing in one theater and, well, the Portman scene involves torture. Such a turn-off!
Sicko's pulse is slowing. Talk to Me came and went, while Rescue Dawn continued to hang onto the number 10 spot. (That Christian Bale is wily.) And for a second week in a row, Interview failed to make the list. Stop smoking, Sienna. Maybe you'll have more stamina.
Manhattan Weekend Box Office: How moviegoers in the multiplexes of middle America choose to spend their ten-spot is probably a big deal in Hollywood. But here in Manhattan, the hottest movies aren't always the ones making the big bucks nationwide. Using Nielsen numbers for Manhattan theaters alone and comparing them to the performance of the national weekend box office can tell you a lot about our Blue State sensibilities. Or nothing at all! Each Monday afternoon, we will bring you the results.