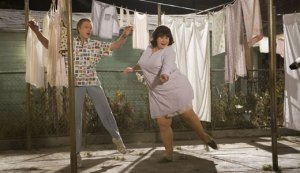 HAIRSPRAY
Running Time 107 minutes
Written By Leslie Dixon
Directed By Adam Shankman
Starring John Travolta, Christopher Walken, Michelle Pfeiffer, Allison Janney, Queen Latifah, Nikki Blonsky, James Marsden
Bad taste is back, and who knew it could be so much fun? Yes, Hairspray is splashy, flashy, trashy musical mayhem that made me laugh and hum, put snap in my fingers and rhythm in my feet, and left me thoroughly entertained. Of course, it is entirely possible that I am losing my mind, but this is a summer movie and we could all use a cooler. Hairspray is better for what ails you than both a rickey and a hickey.
Warning: Before the fun settles in, you will have to get over the shock of John Travolta as Edna Turnblad, the obese laundress of blue-collar Baltimore. I love all the interviews where he insists he wanted to be a woman, not a drag queen. (Spoken like a true drag queen, I might add.) Horrified by the images of both Divine in John Waters' 1988 movie and Harvey Fierstein in the Broadway adaptation, Mr. Travolta visualized his own Edna more like Sophia Loren on a Haagen-Dazs diet. I am sorry to be the bearer of disappointing news, but despite the $75 million budget, the five hours a day in makeup, the multiple chins, the swollen ankles and the hubcap knees—not to mention the punishing 75-pound total-body fat suit—Mr. Travolta is the spitting image of Miss Piggy on steroids wearing Annette Funicello's old hair. When he first appears, like an abandoned Volkswagen on the Baltimore turnpike, the audience gasps with a collective intake of breath akin to an industrial-strength vacuum cleaner. It's surprising how fast the gimmick wears off, though, and once I grew accustomed to the humongous girdles and the size 60 drag with the EEE bra cups, Mr. Travolta really grew on me. Next to him, Christopher Walken, as his husband, Wilbur, looks embalmed—so Edna starts looking pretty normal, like half of the women at Coney Island. Did I say normal? Make that adorable. Edna is kind of a dear, a mother who could feel right at home in Madame Tussaud's.
But Edna is not the focus of Hairspray or the Turnblad family. That dubious but charming honor (as you can see, I'm warming to this corn) goes to Tracy Turnblad, a porky high school teenybopper with beehive hair whose only dream is to appear on The Corny Collins Show, Baltimore's answer to Dick Clark's American Bandstand. It's 1962 and Tracy is caught in the middle of a changing world—Chubby Checker vs. Jenny Craig, overweight outsiders who look like Totie Fields vs. snooty teen queens modeled after Sandra Dee, and a segregated Baltimore where jive-ass blacks are forbidden to dance with plastic white Barbie-and-Ken dolls. "Good morning, Baltimore … every day's like an open door," blasts the bubble gum rock that epitomizes the catchy score by Marc Shaiman and Scott Wittman. Tracy is determined to open a brand-new door of her own, so the movie has a sweeter agenda than ankle-breaking dance routines like the "twist-twist, mashed-potato mambo." It's got issues like liberalism, fair play, social injustice and tolerance winning out over prejudice in the end. You need more than just another oversize cupcake to pull off the role of Tracy, and here is where the movie strikes gold. Welcome Nikki Blonsky, a personality-packed newcomer with a talent as big as her waistline, who was discovered while scooping ice cream at the Cold Stone Creamery in Great Neck, Long Island. She's going places, and I don't mean Weight Watchers.
The marvels prevail. Corny Collins, the grinning pop idol with picket-fence teeth who rules the Baltimore airwaves, is played by an ironed, oiled and camera-ready James Marsden; he reveals comedic talents never tapped before, as well as a singing voice that really swings. (On the showstopping title song, he wails like Steve Lawrence.) Michelle Pfeiffer is the prejudiced, peroxided, mean-spirited station manager, Velma Von Tussle, who stoops low and stops at nothing to keep the black kids off the air and crown her own vanilla-flavored daughter, Amber (Brittany Snow), Baltimore's Teen Queen, even if she has to stuff the votes down her cleavage. Lacquered and zombiefied in what looks like imported Chinese rice powder, she's as tarnished as an old Christmas tree ornament, but as she already proved in The Fabulous Baker Boys, she can sing out, Louise. Allison Janney is hilarious as the Bible-toting Prudy Pingleton, who goes ballistic when her daughter (Amanda Bynes) falls for a black dancer and scandalizes Baltimore society. Oddly, blond-wigged Queen Latifah lacks the requisite energy for Motormouth Maybelle, and her big civil rights anthems, "I Know Where I've Been" and "Come So Far (Got So Far to Go)," are too lackluster to empower the audience with the level of passion that was intended. But she does deliver one of the best lines ever aimed at an interracial couple: "You got a whole lotta ugly comin' at you from a never-ending parade of stupid." Baltimore is played by Toronto.
When Hairspray slows or stumbles, which it often does, the direction and choreography (both by Adam Shankman) pull it back together fast, and it keeps on trucking. It's got sock hops in the gym right out of Grease. It's got Baby Ruth bars, photographs that sing, and miles of polka dots. Drenched in fuchsia, orange and Kelly green, the actors look like Jello-O cafeteria desserts. Wearing loud clothes and ghastly hairstyles they've never seen or even heard of before, the cast appears to have a fine time. One of the reasons this Hairspray transcends the basic shlock of the 1988 film is that it was not directed by John Waters, although he appears in a cameo role, along with Ricki Lake, Jerry Stiller, and other members of the original cast. No doubt Divine would be on hand, too, were he still alive. Another reason it soars is the professional polish and good humor of Mr. Travolta. Without hogging the show or shrinking in embarrassment, he sings and dances with abandon. Inside a prison of gel-filled silicone prosthetic noses, chins, lips and cheeks; wrap-around necks and breasts; 11 pairs of legs; nine pairs of arms; and 40 sets of facial expressions—plus a half-body silicone appliance weighting 75 pounds—the real John Travolta disappears from view, but his talent never wanders far from the center ring. Doing what's right for the character instead of showing off, he reinvents himself all over again. Hairspray is about how it's O.K. to be different from everybody else, do your own thing, make everybody feel good and survive—and so, it seems to me, is a man named John Travolta.