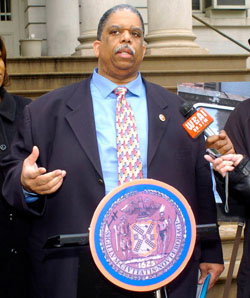 There is no shortage of red tape when it comes to the bar and restaurant business in New York.
In order to pour alcoholic drinks, establishments must obtain a liquor license. If patrons are going to dance, the owner needs to get a cabaret license. And, unbeknownst to most New Yorkers, if there is a pool table on the premises, the business must apply for a billiards license.
Soon, that last requirement will no longer be an issue for most places.
Under legislation signed by Mayor Bloomberg last week, businesses with fewer than three pool tables will no longer need a billiard-room license. Currently, any place with a pool table has to apply for a billiards license with the Department of Consumer Affairs. The law will go into effect within 120 days.
City Councilmember Leroy Comrie Jr. of Queens, who sponsored the bill, told The Observer that it was a long time coming.
"This is just making a long overdue correction in the law," Mr. Comrie said. "Places that want to offer billiard play as a complimentary feature shouldn't be held to the same licensing standards as pool halls."
Enacted in the 1930's, the old law defines a pool hall as any room in which billiards is played. The law does not provide a minimum number of tables for the licensing requirement, so any establishment, from a hole-in-the-wall bar with one table to a full-fledged billiards hall with 30 tables, has to apply for a license.
Although fines are rarely handed down to places operating without a license, supporters of the legislation have long argued that small businesses have enough requirements to meet already, and, especially for those places that offer billiards as an added attraction, the licensing is an unnecessary imposition.
Mr. Comrie agrees.
"We feel that this law will not only save inspectors time from going from place to place but will also mean one less level of bureaucracy that business owners have to deal with," he said. "And we all like a little less bureaucracy in our lives."