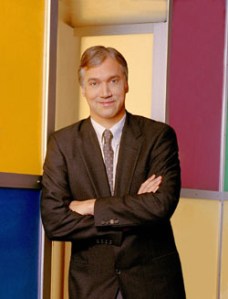 "I want my Web TV!" Could it be the catchphrase of the late aughts?
Fred Seibert and Herb Scannell hope so. Mr. Seibert, who helped bring the still-quoted MTV catchphrase into the vernacular, and Mr. Scannell, who also worked at the music network, have teamed with a group of Internet and television veterans to form Next New Networks, part of a growing class of media companies that are competing to become brand-name packagers of original, high-quality Web TV programming.
The idea is simple: take YouTube, get rid of the cats, puppies and lip-synching rapper babies, and organize everything of worth into online "micro-networks" where people can find consistently well-produced D.I.Y. programming on a given theme. Picture a Web channel devoted to shoes, or grilling, entirely user-generated. Also? Next New Network's Web auteurs will get paid. It's enough to inspire a Luddite to get a Web cam.
"YouTube is like a giant video store," explained Mr. Seibert. "Videos are great. But there's a difference between buying a bunch of videos and watching your TV set. If you are a fan of a particular TV channel, it's because they have created a package for you where you feel comfortable with your fandom. It's the same thing here."
Working with $8 million in start-up funds, Next New Networks currently features ten micro networks—ranging from "Thread Bangers" for D.I.Y. fashion fans to "VOD Cars" for gear-heads to "Veracifier" for liberal political junkies. The company expects to attract advertisers with its fine-tailored groupings, allowing them to reach an incredibly thinly sliced community of fans. Shows are delivered across a wide range of third-party Web portals such as iTunes, VEOH and Joost, practically ensuring that any computer user anywhere will have the means to tune in. Each of the networks will also maintain a consistent level of internal branding, including a visual logo, and an underlying editorial sensibility.
"Herb and I are big branders," said Mr. Seibert. "I look at brands in a really simple way of identifying love. You want to help people identify the things they love and pass them on."
But are Web TV networks necessary in a medium in which producers can connect directly with audiences, sans middle man?
Jeff Jarvis, the founder of new media blog BuzzMachine.com, said that recently he had begun to see the appeal of partnering with a network.
"On the one hand, I think this new world is about owning your own stuff," said Mr. Jarvis. "On the other hand, that also means you have to manage it, you have to sell it, you have to distribute it. I'm starting to see the reason in Fred Seibert's ways. They sell it, and manage it, and do everything else. And I just have to make it. Maybe that's not such a bad deal."
Neither Mr. Scannell nor Mr. Seibert wants their Web TV networks to mimic the polished look of traditional television, opting for the ragged, home-movie feel that is the Web's signature. Recently, the influential liberal blogger Joshua Micah Marshall formed a partnership with Next New Networks to distribute his daily Web TV show, TMPTV. Mr. Seibert said he was happy when Mr. Marshall filmed one of his first episodes without shaving or combing his hair.
That said, Mr. Seibert and company would like to imitate one aspect of television—that is, regularly scheduled programming.
"Even in an on-demand medium, there is something about dependability," said Mr. Seibert. "The video blogging world tended to be like the blogging world in that when the muse hit you, you put something up. But more and more we've seen that dependable scheduling makes for more fans."
"We end up becoming like an editor at a literary magazine, who is trying to introduce the world to new writers," said Mr. Seibert. "You could just open it up to every writer that ever wrote. But trying to get readers for that would be challenging."