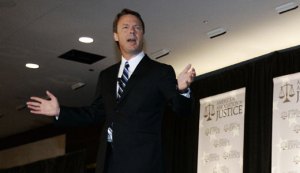 During John Edwards' remarks to an annual forum of his fellow trial lawyers in Chicago on Sunday, the former senator spoke passionately about civil justice issues, joked about "that little house that we have in North Carolina" and warned of "a very concerted, very orchestrated radical right agenda" to "hijack the jury system."
He also, ever so gently, made the political case for the viability of his presidential campaign.
"It's not enough for you to like a candidate," said the former trial lawyer, tanned and comfortable in his sharp blue suit. "It's not even enough for you to agree with a candidate. We must—my party, the Democratic Party—we must nominate a candidate who will win the general election."
After receiving a standing ovation, and blowing two-handed, operatic kisses to his adoring colleagues in the audience, Mr. Edwards retired upstairs to the Hyatt Regency's Crystal Ballroom, where he expanded on that political theme for about 50 supporters, many who had paid $1,000 a head.
Amongst friends and fund-raisers, he was much more blunt.
"All the empirical evidence shows that I am the strongest general election candidate," said Mr. Edwards from a small stage as the Chicago traffic flowed mutedly behind a glass-paneled wall.
The reason, he said, was simple:
"What will happen with almost complete certainty, is in December and January, our caucus-goers, the New Hampshire primary voters, will be evaluating who they think is the strongest general election candidate. They like all of us. I mean, that's the truth. They like me. They like Hillary. And they like Obama. They are trying to decide who they think will be the strongest general election candidate. And that will get more intense, the closer we get to the caucus and primaries."
Then came the sell:
"Well, this is not even close—who's the strongest general election candidate. Every piece of empirical evidence shows you exactly the same thing that your gut will tell you anyway."
To support his argument, he cited a poll that he said showed him outperforming Mrs. Clinton and Mr. Obama in head-to-head match-ups with leading Republican candidates.
"I saw a poll a week and a half ago, done by an independent polling firm, testing each of us against the top four Republicans, in about, I want to say, this isn't going to be exactly right, but in about 20 states, mostly swing states," Mr. Edwards said. "And I beat every Republican in 20 states. All of 'em. Hillary won in about half the states roughly, close to half, and Obama, I think, won nowhere, if I remember correctly."
(The Edwards campaign said it could not locate the independent poll that Mr. Edwards was referring to, but pointed to in-house polling from June that they said showed Mr. Edwards as the Democratic candidate with the most success against Republicans in match-ups nationally and in key battleground states.)
Mr. Edwards also argued that Democrats running for Congress in states like Montana and Georgia and Missouri would all much rather have Mr. Edwards at the top of the ticket.