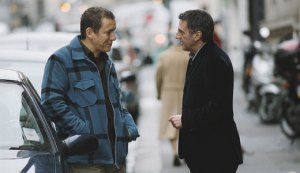 MY BEST FRIEND (MON MEILLEUR AMI)
Running time 94 minutes
Directed by Patrice Leconte
Written by Patrice Leconte and Jérôme Tonnerre
Starring Daniel Auteuil, Dany Boon and Julie Gayet
Patrice Leconte's My Best Friend (Mon meilleur ami), from a screenplay (in French with English subtitles) by Jérôme Tonnerre and Mr. Leconte, ripples with ironies as it approaches the beloved genre of the buddy movie from an initial premise of friendlessness. That is to say that its protagonist, François (Daniel Auteuil), is startled to discover at a dinner party with his supposedly oldest and dearest "friends" that they all dislike him for his coldness and arrogance, and that he really has no friends at all. Furthermore, they don't believe that he has a clue as to the true meaning of friendship. We have already seen him in ruthless action at an auction where he wildly overbid on a large Greek vase he coveted with a passion he never wasted on mere human beings. In so doing, he has placed his company at the risk of insolvency. His business partner Catherine (Julie Gayet) goads François into a bet: She gets the vase if he cannot produce a genuine personal friend in 10 days. And it turns out that François isn't all that loved by his girlfriend and daughter, either.
Amid this frozen vale of friendlessness and lovelessness, François begins a comically futile search for a best friend. Finding no help in his rolodex, he ventures into the city in search of his past. As he does so, he frequently comes into contact with a gregarious cab driver, Bruno (Dany Boon), who spouts an annoyingly lowbrow collection of pop trivia he has gathered after years of religiously watching every quiz show on television. At first, François can barely conceal his irritation, but gradually he sees in the socially uninhibited Bruno a possible instructor in how to make friends. Bruno agrees, for a price, to accompany François on his public meetings with potential best friends.
François concentrates on learning Bruno's three "S's" of affability: being sociable, always smiling and being sincere. There is something ghastly in the spectacle of Mr. Auteuil's François forcing a smile of counterfeit sincerity, and every encounter degenerates into a disaster. In one of his most hilarious misunderstandings, François literally stalks an old schoolboy acquaintance and his wife into a supermarket, where François insists that they were once best friends, only to be told that François was hated by all the students, including his supposed onetime buddy.
In desperation, François finally decides that only Bruno can fill the bill of a best friend even if he has to be virtually bribed to serve in that capacity. After cavalierly inviting himself to dinner with Bruno's parents, he pretends that an old worthless piece of furniture in their attic is a valuable antique, which he then has delivered to his apartment. François then sets a task for Bruno to demonstrate his friendship, by having him steal his precious Greek vase and then hiding it long enough for the insurance company to pay François' company out of fiscal ruin.
What happens next is the crux of the film, and I can't think of a reason to give it away. François is humbled and then spared for his calculating cruelty, and there is a happy ending of sorts with a million-euro television quiz show as a redeeming force. Indeed, Mr. Leconte has come close to making a mainstream heartwarming Hollywood entertainment, something Hollywood itself seems to have forgotten how to do. If I happen to prefer the darker Leconte of Monsieur Hire (1989), La Fille Sur le Pont (1999), La Veuve de Saint-Pierre (2000), and L'Homme du Train (2002), it is because I have come to expect something more somber and reflective from this particular auteur. This in no way diminishes the dazzling expertise of Mr. Auteuil and Mr. Boon in their tortured affinities.