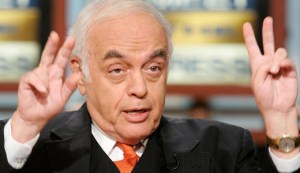 If the Valerie Plame case has changed Washington – burning formerly anonymous sources, torching formerly high-flying careers – it's becoming clearer the man who sparked the firestorm may not have emerged unsinged after all.
As he sat down with The Observer in his D.C. office suite last week, Robert Novak was still a bit guarded.
"I'm not going to tell you my darkest secrets," he warned.
But he finally seemed completely at ease talking about the impact the most famous column he's ever written has had on the the city, and on himself.
He started writing his memoirs in 2003 – around the time the Plame story broke – although the process actually began in earnest months before he realized how big an impact the affair might have on his legacy.
"I started writing because I'm old," he said. "I wanted to tell my story while I was still cogent. While I could still remember what happened. … I'm worth a few million – I didn't have to write this book. I just always knew I would do it, and I knew now was the time."
But despite his denials, it's clear the lingering Plame fallout, coupled with his advancing years, played a big role in his motivation to release his memoirs now.
"There's no question if you walked out of here and I dropped dead, my obit would probably have [the Plame affair] in the lede," he said. "I don't have too many years left, so that's probably what it'll be. The idea that that's my legacy is unfortunate, but that's the way it turned out."
Perched in an armchair in a tiny, windowless study in his D.C. office suite – just down the hall from Newsweek's Washington bureau and block from the White House – a shirt-sleeved Mr. Novak said he "didn't do anything wrong" in revealing the name of the former C.I.A. operative.
His floor is littered with old typewriters, relics from an earlier phase of his career. Rows of angelic-looking grandchildren beamed from photos on the bookcase lining the wall behind him.
"People just jumped to conclusions – a couple of years ago, most of the stories they wrote about me were pretty punk. But I don't blame them; I wasn't talking, so they had to make stuff up. And they did… People are lazy now, and they write off of Nexis. If a fact is wrong in one story, then it's wrong everywhere. … I broke no laws. [The Plame column] was good journalism" that became, because of passions over the war, a sort of political Rorschach test.
This week, Bob Novak is fully emerging from bunker mode for the first time since the leak investigation began – answering questions that have been circling him ever since the former C.I.A. agent's name appeared in his column four years ago this month.
Later today, he'll discuss his new memoir, The Prince of Darkness: 50 Years Reporting in Washington, on "Meet the Press," and a book-pegged Q&A in The New York Times Magazine hit doorsteps this morning.