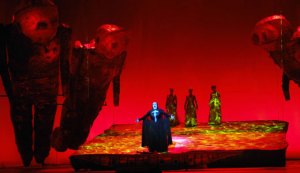 You can always tell that a new crowd has arrived at Avery Fisher Hall by the interminable intermission line for the orchestra-level men's room: The gentlemen don't realize that they can swiftly ascend to the first balcony, where a virtually unused facility awaits their eager patronage. That was the case at one of the New York Philharmonic's "Summertime Classics" concerts, which I attended on July 3.
Now that the Philharmonic has made the daring choice of Alan Gilbert, a 40-year-old American, as its next music director, we can confidently look forward to a more adventurous musical diet. But there's a great reason to keep the very conservative "Summertime" series going: butts on seats. Nothing is more dated than the typical fare, so-called "light classics" such as Grieg's "Piano Concerto," Elgar's "Pomp and Circumstance" and hoary Slavic tone poems by Smetana and Borodin—the repertoire popular when your grandparents watched Lenny Bernstein analyze Beethoven's Fifth on CBS while they ate chicken à la king off their TV trays. And yet Avery Fisher was sold out at the concert I attended (a slightly more progressive evening that featured Bernstein's Symphonic Dances from West Side Story), the audience—younger and less affluent-looking than usual at the Philharmonic—enjoying the orchestra's energetic, if inexact, performances and the conductor-host Bramwell Tovey's good-natured shtick. This orchestra may be irrelevant to New York's intellectual life, but at least selling tickets is not one of its problems.
IF "SUMMERTIME CLASSICS" IS DEVOTED to playing it safe, then the Lincoln Center Festival, which follows it, boldly tampers with success, repackaging old music in outlandish new ways.
It's been a good year for Wagner in these parts. Back in May, the Great Performers series imported the Los Angeles Philharmonic's stunning concert production of Tristan und Isolde to Avery Fisher Hall; then came the complete "Ring of the Nibelung," with the four operas offered in a production created by the lionized conductor Valery Gergiev and featuring the singers and orchestra of St. Petersburg's Kirov Opera company, which he commands.
The buzz for this event has been volatile, from expectation (bad) to performance (not so bad) to aftermath (not so good). But Wagner sells: All of the Kirov performances were sold out, and at those I attended (Die Walküre on July 14 and Götterdämmerung on July 19), the audience at the Met was dotted with cultural and financial aristocrats, as well as those ardent Wagnerites, recognizable by their golden helmets and punning T-shirts ("Much Ado About NOTHUNG," etc.), who travel the world to hear the operas like so many Phish fans, their fortitude enhanced by chicken sandwiches and blancs de blancs rather than cannabis.
This was a hearty Russian "Ring," free of Teutonic trappings and Western luxury. Mr. Gergiev's band, lacking expensive instruments and Westchester-worthy salaries, plays with a sometimes haggard intensity that must be an admixture of musical passion, physical exhaustion (the Kirov's tours are notoriously punishing) and thankfulness (of musicians grateful to be employed). During the whirlwind prelude to Die Walküre, my ears perked up at the metallic ring of the brasses, the stinging glare of the woodwinds, and the raw thudding downbeats of the double basses—this is an ensemble of flesh and bone, without any of the Met Orchestra's sumptuous textures and Odalisque curves.
Under James Levine—the guy who usually works this room—a Wagner opera is integrated with scientific precision and delivered with elegant lyricism and refulgent sound. Mr. Gergiev has none of this, but he compensates by whipping up crazily inspired, intuitive conducting, enjoying such an intimate bond with his singers that he can shape the orchestra's tone around them: There wasn't a single heavy, dramatic-weight voice onstage in Die Walküre, yet you never had to strain to hear them. That doesn't happen enough at the Met.