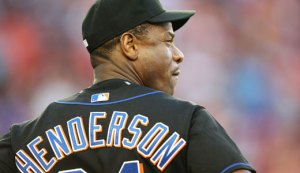 So maybe hiring Rickey Henderson to be a coach isn't such a crazy idea after all.
Certainly, in the weeks since the New York Mets hired him as the team's first-base coach, some players have come to swear by him.
"We've really connected," 22-year-old outfielder Lastings Milledge said. "He's helped me with my approach at the plate, my approach in general."
Milledge, who can frequently be seen deep in discussion with Henderson on the field during practice sessions and in the locker room, has hit .286 through July 26, with three home runs and a .492 slugging percentage, and has made numerous crucial, hustling plays in the field and on the base paths.
"I think it's just about giving him confidence," Henderson said. "Maybe the last time up here, he didn't carry himself as a major leaguer. But I've been very impressed with him since I've been up here."
Few former players would have been considered a less likely choice than Henderson to mentor young players.
During his brilliant but tempestuous career with the A's, Yankees and Mets, among other teams—he's the all-time leader in stolen bases, with 1,406; his career on-base percentage is a robust .401; and back when he was signed by the Mets as a player in 1999, he'd led off more games with a home run (73) than the Mets franchise had in 37 years (72)—he seemed perpetually upset about his contract, though he usually was among the top-paid players in the game. He was known for providing reporters with ample material, often in the third person. (Rickey was just being Rickey long before Manny began being Manny).
Henderson's playing tenure with the Mets ended poorly after reports surfaced that he and teammate Bobby Bonilla were in the clubhouse playing cards as the Mets battled the Braves during game six of the National League Championship Series. By the middle of the 2000 season, Henderson had complained his way into being released.
Still, after Rickey failed to find a major league club willing to let him continue his career after 2003 (he reportedly called Padres G.M. Kevin Towers and left a message that began, "This is Rickey calling on behalf of Rickey," to no avail), Henderson decided that he wanted to do what it took to be a part of baseball.
He found a taker in the Mets, who announced him on July 12 as a full-time first base coach, after several week-long stints as a spring-training instructor.
The transition has not come easily for a man who, as recently as a few months ago, still held out hope of playing this season.
"What's different is that you're not physically out there playing," Henderson said, sitting at his locker at Shea Stadium following a recent 8-4 loss to the Pirates. "So it's strange, getting ready for a game and then having no place to put that physical energy. But it's a definite plus, getting the chance to put that effort into these players, trying to help them get better."
On game days, he seems to be everywhere, talking to the hitters as they take batting practice; standing next to the Mets' young double-play combination, Jose Reyes and Ruben Gotay, as the pair stretch along the first-base line; and then ducking into a tunnel between the dugout and the clubhouse, headset on, to provide the visiting Pirates' radio affiliate with a few minutes of his time.
Nor can he keep still once the game begins. He's constantly talking to the players at first base, and when the team is in the dugout, he can be seen going over the fine points of a batting stance, often jumping up and assuming his famous crouched deportment to illustrate a lesson.