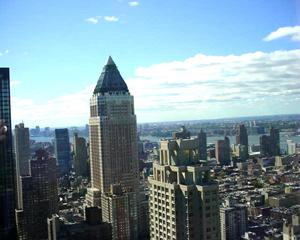 New Yorkers who spend gobs of money on real estate can be epically finicky. Howard and Yvonne Tsao, who graduated from the NYU Stern School of Business barely a year ago, just paid $11.75 million in cash for a 58th-floor spread at the Park Imperial on West 56th Street, which buys five bedrooms plus six (and a half) bathrooms, but not immediate gratification.
"It's in mint condition, but they're still spending a fortune on doing their own things," said listing broker Nina de Rovira, a stately senior vice president at the Corcoran Group. For example: "They are taking out the marble—gorgeous marble—on the floor, because they like wood floors."
Rich people live richly! "They're taking out a mint-condition kitchen that I would give my right arm for," the broker said. "They're doing their own thing with their own taste. You know, money is no object." (Mr. Tsao's father is a semiconductors magnate.)
The apartment's buyers and seller are listed pseudonymously on the sales deed, but names can be found in older real estate records: The seller is Mehmet Kutman, a Turkish financier who has close business ties to the Israeli billionaire Sammy Ofer.
Mr. Kutman bought two adjoining apartments separately in May 2003, paying a total of just $5,547,896.25, and combined them into the five-bedroom spread. Mr. Kutman apparently knows his big-ticket real estate; Ms. de Rovira said he's taking part in a $1.4 billion deal for a port in Turkey, though details of that deal aren't clear from news reports.
His old apartment has three-direction city views, plus a 16'-by-14' corner master bedroom with an adjacent sitting room (which happens to be even larger).
Will the buyers' changes make the apartment quantifiably finer or grander or happier? "You can't make it more beautiful," Ms. de Rovira said, "because it's drop dead gorgeous."