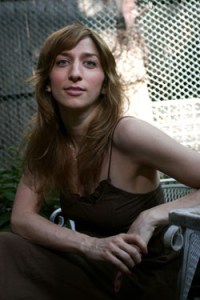 Comedian Chelsea Peretti is as filthy (and hot) as Sarah Silverman—but she hates herself more. She's not above making fun of retards­—and who doesn't love a good retard joke!—but her main source for material is her sorry self. Take the one about the woman who told her she looks like a "pretty Penny Marshall."
"She said it like a compliment, but that's like telling someone, 'You look like a gorgeous Whoopi Goldberg,'" Ms. Peretti joked. "That's not something found in nature. Like a suave elephant man."
Fifteen minutes late for our meeting at a Starbucks near Union Square, Ms. Peretti, 29, darted into the line and returned with an iced skim latte and a bowl of fruit. "I read somewhere that Jessica Alba only has a piece of fruit and coffee for breakfast," she said. "I'm hoping my nose will get smaller if I eat this."
Her watery blue eyes accentuated by gray eye shadow and thick mascara, dressed in a short pink skirt and a sleeveless black shirt covered in tiny hearts, she discussed her rapidly accelerating career. Ms. Peretti is the queen of the ever-growing downtown comedy scene. She's producing a sketch comedy pilot for the stoner-centric Adult Swim network with her all-female comedy troupe, Variety Shac; co-writing a book with former Judith Regan underling Bridie Clark; and working for Turner Broadcasting's comedy Web site Super Deluxe, where she has a six-episode deal to make short films.
But it's her stand-up that's put her on the map. Ms. Peretti—who's sort of like the Brooklyn-bound thinking man's Alessandra Ambrosio, though she would retch at the thought—frequently packs in the irony-minded crowds at places like Upright Citizens Brigade, Galapagos and Union Hall.
"Every sexual fantasy I have, there's always at least one guy in it who laughs like this: (in Dracula voice) 'Muh-ha-ha-ha!'" goes one of her bits. "I cannot have an orgasm without it. I'm just glad I'm not having the type of sex I used to have, where I would be just finished with him and he would be making his way out of the loft bed to go take a shower. And I would catch myself saying, 'Hey! Go easy on the soap. Because I paid for it …. And I hate you.'"
Known to start shows by greeting audience members individually with a Phil Collins soundtrack playing, Ms. Peretti can make things awkward when she glances at her notes on stage. But her confidence never wavers, and her humor is edged with a kind of aggression that shy, lefty guys—let's just say it, emo boys—can't resist. In one of her jokes, she talks about dosing herself with small quantities of Rohypnol to build up a tolerance and become "unrapeable" in the meatpacking district. She may hate herself, but, to the delight of the messenger-bag-toting types, she hates the greaseballs trying to bed her even more.
An Oakland, California, native, Ms. Peretti went to a mostly black junior high school and was picked on constantly. "I really felt like a freak," she said. "Everything about me was different. I was skinnier then, I had like a perm and these awful braces and wore dark lipstick. I really was a mess. In high school, people started to find me more attractive, but there's still that part of me that finds me a complete freak. When people online say I'm disgusting, I'm like, 'I know.'"
She came to New York to attend Barnard College, where she pursued English with a writing concentration. She began supporting herself as a freelance writer, serving as an intern at the Village Voice and, more recently, chronicling a "magical evening" with a Wyoming steer wrestler for Playgirl. With her brother Jonah she created the "Rejection Line" (212-479-7990), which has been handed out to thousands of unwanted suitors around the country. (Oh, sorry. You didn't realize?)
The Peretti brother-sister tandem is also responsible for blackpeopleloveus.com, a race-relations satire that features black people giving testimonials to a fictitious country-club couple named Johnny and Sally. "Johnny calls me 'da man!'" says one. "That puts me at ease. It makes me feel comfortable, because I am black and that's how black folks talk to one another."