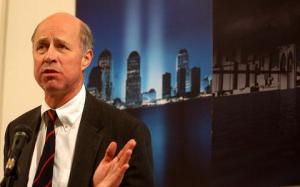 Kent L. Barwick, the president of The Municipal Art Society, will step down in early 2008, according to a press release distributed earlier today.
Mr. Barkwick is serving his second term as president of MAS and was the entity's first full-time executive director. After stepping down, Mr. Barwick will become president emeritus and will help MAS on various projects and initiatives.
The board of the non-profit organization has created a committee to plan for the transition and choose a new president.
The full release is below.
KENT BARWICK TO STEP DOWN
FROM MAS PRESIDENCY
The Municipal Art Society announced today that its long-time president, Kent L. Barwick, will step down as chief executive officer in early 2008.
"MAS is entering the most significant phase in its growth since the 1970s and over the last year or so we have been thinking about the future," Mr. Barwick said. "We have regularly reinvented ourselves with new energy and fresh vision. The excitement of the growth in New York brings both opportunities and perils, and we believe this is the right moment to choose a man or woman smitten enough with New York to take up a very ambitious assignment, and young enough to stick with it for at least a decade."
Mr. Barwick has had a long association with MAS having served twice as its president and earlier as its first full-time executive director. He is a lifetime director. He has also served as chairman of the city's Landmarks Preservation Commission, executive director of the New York State Council on the Arts, and president of the New York State Historical Association.
In 2008, Mr. Barwick will become president emeritus and return to MAS after a sabbatical to assist on selected projects and initiatives. The MAS board has appointed a search committee to plan for next year's transition and choose a new president.
"I realize it may reveal a lack of imagination on my part to sign on for what amounts to a fourth career at MAS," Mr. Barwick said. "But for one addicted to New York, working here is endlessly fascinating. How can you imagine playing golf when you could be wrestling with developers and politicians over the future of the most interesting place on the planet?"
"New York is the greatest city on earth and Kent Barwick is its keeper," said Philip K. Howard, chairman of MAS. "Kent has been the soul of the Municipal Art Society for almost 40 years, leading the charge to save Grand Central Terminal, stopping towering buildings that would have cast shadows across Central Park, preserving the glitzy character of Times Square, building a magnificent new Moynihan Station, revitalizing the waterfront, and hundreds of other projects. We are delighted that he will continue to offer his vision and wisdom as MAS brings in the next generation of civic leadership."
The Municipal Art Society of New York is a private, non-profit membership organization whose mission is to promote a more livable city. Since 1893, the MAS has worked to enrich the culture, neighborhoods and physical design of New York City. It advocates for excellence in urban design and planning, contemporary architecture, historic preservation and public art.