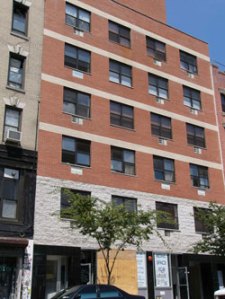 Rob Shamlian was livid.
It was Monday morning and the Lower East Side nightlife entrepreneur was standing in the dark empty confines of Fat Baby, his Rivington Street bar, stewing over accusations that have been thrown his way. "This is absurd," Mr. Shamlian told The Observer.
While they might be absurd, the charges are not to be taken lightly.
A group of neighbors is alleging that Mr. Shamlian forged the signatures of area residents on a petition in support of a liquor license application for his new restaurant Evan Ford, which is supposed to open in October. In documents submitted to Community Board 3, the group claims that Mr. Shamlian "provided CB3 with signatures that were apparently forged and signatures obtained under questionable circumstances."
Mr. Shamlian vehemently denies the claims.
"All the signatures that are being questioned are legit," he said. "This guy is bringing up all these bogus claims. It's pathetic."
The guy in question is Wesley Gaus. Mr. Gaus recently purchased an apartment at 133 Essex Street, the building where Evan Ford will occupy the ground floor. He is also part of the group who presented the community board with a litany of complaints about the yet-to-open establishment.
Mr. Gaus and other opponents declined to speak on the record with The Observer because of the State Liquor Authority's ongoing investigation into the matter. However, documents that the group submitted to the community board claim that 8 percent of the 48 signatures that Mr. Shamlian submitted were "provided without authorization, consent, or knowledge."
Pearl Hahm and Elizabeth Kim, residents of 143 Essex Street, are identified as being upset that their signatures had been included on the petition, and it is noted that Ms. Kim actually signed a petition against the liquor license.
The documents also allege that a "Peter Victor" using the address of a wireless store at 139 Essex Street does not exist and that signer Robert Cicciari was never a resident of 133 Essex Street, but rather just had a maintenance contract with the building.
Although repeated attempts to contact Ms. Kim and Ms. Hahm were unsuccessful, Mr. Shamlian was able to provide signed evidence from both women indicating that they were in support of the license.
A letter from Mr. Shamlian's attorney to Community Board 3 also explained that Peter Victor did exist at 139 Essex Street at the time the petition was signed and the fact that "Mr. Gaus cannot locate him does not invalidate the signature." Mr. Cicciari explained to The Observer that he had an apartment that he stayed at occasionally while he was working on the building and signed the petition during that period.
"When I decided to put in the restaurant I went to the neighbors to make them feel comfortable," Mr. Shamlian said. "It wasn't until this guy came along that there was any opposition."