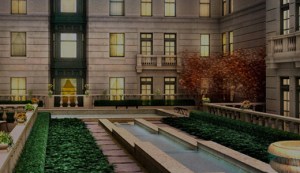 It's been eight heady weeks since The Observer, citing an anonymous source, reported that an apartment spread at the licentiously redesigned Plaza Hotel would be selling for more than $50 million.
Lo and behold! Early this afternoon, deeds filed in public records announced that six apartments on the seventh-floor of the gold-bedecked Central Park palace were sold and closed. The contract, signed in March 2006, rounds out to the gorgeous amount of $51,539,180.
And that's not all: one deed lists the property's function as "Community Service"–though, more sensibly, a second deed calls the spread "One Family Residential" instead.
Community servicing or not, this is the first apartment in New York City to close above the $50 million mark. (Other published reports, without the benefit of public records, have said Harry Macklowe will spend $60 million on Plaza apartments, and that a London-based oilman will buy a $56 million triplex.)
It isn't clear if this seventh-floor sprawl went to the oilman or to Mr. Macklowe or to someone else: The buyer is listed anonymously as Plaza 7 Apartment LLC.
For now, this is officially the expensive apartment in New York City. According to city records, the only Manhattan home sale to beat this $51.5 million deal is last year's Harkness Mansion deal: The billionaire J. Christopher Flowers paid $53 million for that French Renaissance townhouse on East 75th.
There have been reports of other mammoth sales, like this week's Observer item on Edgar Bronfman Jr.'s $50 M. townhouse on East 64th Street–but none of these have closed.
But those mansions do not come with a "one touch, high resolution, wireless flat-panel display." The Plaza, on the other hand, "provides each resident with a fingertip array of concierge and security services as well as the ability to simply and elegantly control the interior ambience of their apartment." If that alone isn't worth more than a twentieth of one billion dollars, what is?