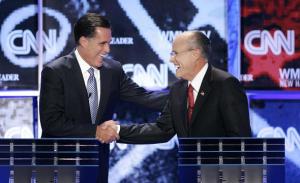 It should be stated up front that this race for the Republican presidential nomination is unusually shapeless and fluid, a pleasant departure from the preordained outcomes the party has specialized in since 1980.
That said, the G.O.P. contest suddenly seems to be solidifying into a more definite form: Rudy Giuliani and Mitt Romney, each for entirely different reasons, have stepped to the head of the pack, while Fred Thompson has slipped and John McCain is gasping for air.
Where only a month or two ago the Republican race featured four co-equal front-runners, there are now two. And while this pecking order could easily shift among the existing candidates (and while there remains a theoretical vacuum for a yet-unnamed white knight to swoop into the race and steal the nomination at the last minute), Mr. Giuliani and Mr. Romney have passed some key early tests of their front-running status.
If this Giuliani-Romney dynamic somehow holds up into next year, it would set up a fascinating strategic clash, since Mr. Romney's strength lies in the early, stand-alone primary and caucus states, while Mr. Giuliani is poised to dominate in the quasi-national primary on February 5. Would lead-off triumphs for Mr. Romney trigger a domino reaction that would enable him to compete with the former mayor on February 5? Or would Mr. Giuliani's broad national strength steadily choke the life out of the Romney boomlet, much the way George W. Bush derailed John McCain in 2000 or Walter Mondale beat back Gary Hart in 1984?
Mr. Giuliani, of course, has been the "front-runner" all along, the leader in just about every national poll since he began taking definitive steps toward a candidacy. But those gaudy numbers were typically written off as the product of his 9/11 celebrity credentials; they would steadily deflate, it was assumed, as the G.O.P.'s conservative electorate took a closer look at Rudy's social liberalism and personal transgressions.
But it's looking like the former mayor's base of support isn't nearly as flimsy as first assumed. He came clean – more or less – about his pro-choice position several months ago, and the bottom didn't fall out for his campaign.
More revealingly, he has withstood a hellish early summer stretch: the federal indictment of his South Carolina campaign chairman on cocaine distribution charges; the departure of his top Iowa advisor to a White House post; the revelations about the sexual infidelities of his de facto ambassador to the Christian right, David Vitter; and the embarrassing report that he skipped out on Iraq Study Group meetings last year in favor of lucrative speaking gigs before finally quitting (under pressure from fellow members, evidently). They were stories that raised renewed questions about Rudy's judgment, providing an excuse for the press to dredge up his role in Bernard Kerik's near-appointment as the country's Homeland Security chief. At the height of it, a few weeks ago, Tim Russert devoted a portion his "Meet the Press" roundtable to the supposed decline of Mr. Giuliani's campaign.
But this week brought a new Washington Post/ABC News poll, which places Mr. Giuliani 21 points ahead of his nearest G.O.P. rival – a 37-16 percent lead over the flagging Mr. McCain, with Mr. Thompson at 15 percent and Mr. Romney at 8. The vulnerabilities that were supposed to doom Mr. Giuliani among Republicans have been aired – and then some – but he remains the clear national front-runner.
This invites several possible conclusions. One is that Mr. Giuliani is simply more beloved by the party base than anyone forecasted – that even hardened right-wing elements are stirred by the man who led New York during the 9/11 attacks, his apostasies be damned. Another is that Republicans are showing unusual pragmatism; aware of the long odds their party faces after two terms of George W. Bush in 2008, they understand Mr. Giuliani's unique potential to compete in states that would be ceded to the Democrats under any other G.O.P. standard-bearer. And his resilience may be as much a commentary on his competition as his own attributes.
Whatever the reason, it is no longer a stretch to envision Mr. Giuliani securing the nomination. His strength in national polls meshes with his apparent strategy of playing down the lead-off primary and caucuses and focusing more on the February 5 mega-primary. Indeed, there are some big states with big delegate counts and Rudy-sympathetic electorates that will head to the polls that day. Nonetheless, he will need to win at least one of the four pre-February 5 stand-alone contests, or risk watching his national numbers evaporate amid questions about his viability.
And that is where it gets tricky for Rudy – and where his co-front-runner enters the picture.
Mr. Romney lags far behind in those same national polls that Rudy dominates, generally a rung or two below Mr. Thompson and even Mr. McCain. But consider the data from the early states. In Iowa, Mr. Romney topped the most recent survey with 25 percent, to Mr. Giuliani's 18, Mr. Thompson's 14 and Mr. McCain's 13. In Nevada, the second state to vote, Mr. Romney led a late June poll with 24 percent, three points ahead of Mr. Giuliani, and in a New Hampshire survey published just last week, the Romney advantage was 15 points over Mr. Giuliani. His only weak early state is South Carolina, which will vote a week before February 5 and where Mr. Romney's numbers mirror his national standing.
This is partly attributable to money: the Romney campaign has spent heavily and has even aired television ads, calculating that the most efficient path to national prominence is through success in the small, disproportionately influential early contests. Mr. Giuliani, meanwhile, hasn't launched an ad campaign and Mr. Thompson isn't even officially in the race, so Mr. Romney's apparent strength could be seen as inflated.
But it goes deeper than that. After all, Mr. McCain has spent his money even more profligately than Mr. Romney (though not on television ads), and all he has done is sink in polls. What is clear is that Mr. Romney – either through his ads, through free media appearances, or through his own personal campaigning – has found surprising resonance among Republicans in the lead-off states.
Like with Mr. Giuliani, Mr. Romney's is performing well despite a series of potentially massive political liabilities.
It isn't much of a stretch to say that there isn't a single topic on which Mr. Romney is now preaching a gospel that he himself didn't once oppose. He spent a decade earnestly pleading with Massachusetts voters to consider him a pro-choice, pro-gay rights, pro-campaign finance reform moderate – a man who emphatically told the public that he was not a Reagan Republican and that he thought single-party rule by Republicans was unhealthy. Now, of course, he earnestly pleads with right-wing Republicans to consider him one of them. He has been called on these contradictions, often with the assistance of embarrassing YouTube clips, by the press and by his opponents.
But his steady growth in early states suggests that his flip-flops aren't enough to scare Republican voters away. A possible explanation is the power of his personal presentation – a smiling, forceful, confident and energetic speaking style that stands out from Messrs. Giuliani, McCain and Thompson. His looks, and his relative newness to the national stage, also give his candidacy a fresher feel than his rivals'.
For now, Mr. Romney is the clear front-runner in Iowa and New Hampshire, and maybe even Nevada too. His Iowa standing is buttressed by his campaign's decision to aggressively organize the state in a way Mr. Giuliani won't match, and the same probably applies to Nevada, another caucus state. If Mr. Romney can score impressive wins in those lead-off states, the onus would then be on Mr. Giuliani to stem the Romney tide in New Hampshire or South Carolina, thus preserving Mr. Giuliani's viability for February 5.
On paper, his better bet may be South Carolina, since Mr. Romney enjoys next-door neighbor status in New Hampshire (the Granite State has only snubbed one of the four most recent Massachusetts candidates in its primary). Of course, a Romney win in New Hampshire would only give him more momentum for South Carolina, and if the former Massachusetts governor were to sweep the early contests, he'd probably be unstoppable on February 5.
It's too soon to write off Mr. Thompson (or maybe even Mr. McCain) just yet. But, six months before the first caucus, it's time to start wondering if those long-predicted collapses of the Romney and Giuliani campaigns are ever going to happen.