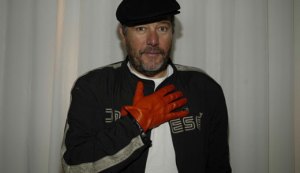 LOCATION: It's a lovely day in New York City. You're missing out.
Mr. Starck: I'm not so bad. I am in my farm in Southwest France, close to Bordeaux. We have spent the day with the boat; we drink very, very good Bordeaux white wine, we eat some of the 200 million oysters. It's very acceptable.
Is it still true you have 17 homes?
Oh! I think it's 21. The last one is a new one in Venice—we now have three houses in Venice. Here where we are is almost French Venice, it's a lagoon.
Do you have a condo at the soon-to-open Downtown by Philippe Starck near Wall Street?
You know, it's a funny thing, because I never think to buy an apartment in the places I do—which is ridiculous, because these places are very good, very well-designed! And I think, it's true, I can have a very good discount. It's a fantastic value to buy, because everyone who buys can resell it and make a fortune.
Gramercy by Starck will be your second namesake building. Do you like being a brand?
I say it's good and bad. When people come to buy what you're doing, just because Starck is chic, I say it's ridiculous.
When people come and … know that 20 years ago they were in a hotel by this guy, and they cleaned their teeth with the brush of this guy, and they see the Louis Ghost Armchair by this guy, they drive the motorcycle, they take the plane, they eat organic food by this guy, they say, "You know, I like so many things by this guy, perhaps we have something in common? Perhaps we are from the same tribe?" For that I feel more comfortable. In this way it is good.
Why will your name be on the Gramercy's "Starck Lounge" and "Starck Fitness" gym?
Darling, I have no idea! I am sure my partner who built that loves me, and he did that to please me. And it is very nice.
Would someone who uses your high-design toothbrushes or high-legged juicer want to live in your real estate?
I make so many places—hotels, museums, restaurants; I think they can check by other ways than the brush. All these people can sleep in my places, or eat in my places, everywhere in the world: Tokyo, Beijing, Shanghai, London, Paris, everywhere.
When talking about designing your toothbrushes, you once said: "I have to acquaint myself with its owner. I need to know the kind of society that has given rise to this life." How much do you know about the chaotic New York real estate universe?
I am not interested by the world of real estate, to speak frankly. I don't want to know anything about the world of real estate. I just know that people need a roof, to be out of the rain, out of the cold. I know that if we build a building, and if I bring my vision, perhaps my friends can have a better life. And I absolutely don't need to know more than that.
Architects speak about concrete, glass, and I don't know what; we speak just about culture, humor, poetry, love, energy, vision.
How will this city look in 25 years?
Ha! Ha! Twenty-five years? New York? I hope it will be less rich, less clean, and I hope that the life will come back like it was 20 years ago. Because today New York is still New York, but it's more the image of New York—now it's a clean image, a computer image. New York is interesting now for banking, business, but money and business don't interest me.