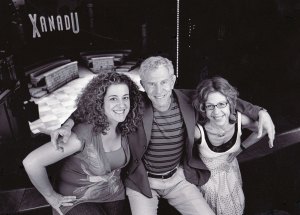 Break out the leg warmers! The new breed of Xanadu fans—fANADUs, as they're calling themselves online—want you to "do the 'du!"
Xanadu on Broadway, a campy interpretation of the 1980 movie starring Olivia Newton-John (played by Kerry Butler onstage) as a roller-skating Greek muse who comes down from the heavens to inspire an artist to open a roller disco, opened just yesterday. But 80's die-hards have been lining up for weeks to see the musical in previews. Douglas Carter Beane, who wrote the book for the stage adaptation of the trippy cult classic, seems charmed by these "Xanadudes and Xanadudettes."
"They have pictures of themselves dressed up as the muses and going for their ninth time, nine times for each muse. They love it," chuckled Mr. Beane, whose play The Little Dog Laughed was recently nominated for a best play Tony award.
Mr. Beane remembers being confused and captivated by the movie 20-odd years ago. "[HBO] would show Xanadu and Clash of the Titans in some kind of relentless cycle," Mr. Beane told The Observer on the phone. "I thought, 'Oh, my God, did they leave out a reel or something?' I was like, 'What's going on? I can't even follow it!'
"It's a great premise, it's a great story," Mr. Beane insisted. "Who wouldn't want someone to fall out of the sky and inspire them and take care of all their problems?
"People come up to me and say I had a really horrible week, but I got tickets to the show because my friend was in town and now I'm in a great mood." Indeed, it's amazing what 90 minutes of intentionally cheesy dancing, 80's-tastic music numbers and cheeky dialogue from a ditzy blonde with a wittingly bad Australian accent will do to cure the dogs days of summer. As the original Electric Light Orchestra opening number cheers, "I'm Alive." Seriously.
Xanadu on Broadway, Helen Hayes Theatre, 240 West 44th Street, for times and tickets, www.telecharge.com.