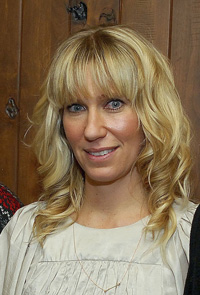 Bad (or maybe good) news for the forthcoming The Fashionista Diaries, a SOAPnet reality series following the travails of six assistants in the glamour biz: Two of its cast members, Rachel Jacoby and Andrew Kanakis, were employed at Condé Nast's "edgy" women's magazine Jane, which was founded a decade ago by Jane Pratt and shuttered on Monday July 9.
"We're figuring out today how that will impact the show." said Deborah Blackwell, SOAPnet's general manager—who is no relation to fashion-arbiter Mr. Blackwell, we think—from her L.A. office. "One-hundred percent of the two assistants will remain a part of the show, and the closing will probably be a part of it. It's a day of great drama, but it'll be great TV that way, too."
Fellow cast members pronounced themselves stunned. JanJay Sherman, 22, came to New York from Grandview, Mo. to pursue a career in fashion, first as an intern for Zac Posen, and now as an assistant at Flirt Cosmetics. "I mean, for Rachel, this is her dream, she wants to be in the editorial world, it's going to come as a shock, she's going to take it to heart," she said. And Mr. Kanakis? "This is just going to show him another side because he has a fashion background. We're in support of them and we're behind them one-hundred percent!" Phew!
"I just want to reach out and give her a big hug," said Tina Patient, 24, from Windsor Locks, Conn. "We're here for them. It's shocking, it really is shocking," she said.
The remaining cast members are, for now, safely employed at Seventh House PR, and while Ms. Jacoby and Mr. Kanakis have not yet been placed at other companies, the show, which has the same producers as MTV's hit snobby-teen romp Laguna Beach, is set to premiere on Wed., Aug. 1. "This is just some new drama for our production," Ms. Blackwell said.